DISCLAIMER NOTICE: Nunc Pro Tunc to January 1, 2012: All Rights Reserved. www.UnderstandContractLawAndYouWin.com or any agent thereof does not give legal advise. The information contained herein is for entertainment purposes, and we at most hope that it stimulates your thought process to consider the variety of potential solutions, and to seek competent legal, tax, or financial advice from a trained professional. The information contained herein is for generic brainstorming, entertainment, and is not meant as legal advice for any specific legal situation you are in. Contact with an agent of UCL is considered PRIVATE and Confidential. If you do not agree to these terms, you must exit the website. | If you agree to those terms, you may contact us privately for questions or information, via Email (fill out form on right-side of webpage), or by Phone: 505-340-3632 under those terms at all times. All Communication is PRIVATE, confidential, and without the consent or agreement of monitoring of any third-party.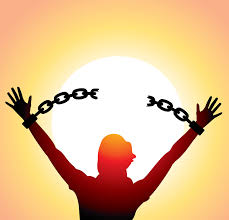 New SPC/UCC "Done for You" Process is FINALLY Here!
We now offer a Ten-Day Turnaround on Having all your paperwork produced for you, with detailed instructions and support to ensure you get the filings done.
For those who are serious about LEARNING and OVERSTANDING every crevice of the spc/ucc/freedom/reclamation process, how to use their position to get remedy, as well as how to add additional layers of security and protection, and how to manuver in the world as secured…then you should definitely also sign up for the STATUS CORRECTION COURSE, a 15 Week Webinar series, more info here.
For January and February, we are open for *SERIOUS* Students, to get a very special value for their donations to support our cause – in exchange for BOTH SERVICES.

Speak with us today about our special offer! Ends February 28!  YOU MUST FIRST BE A MEMBER OF OUR PRIVATE COALITION – (on our e-mail list or more involved) as this is NOT available to the GENERAL PUBLIC!  So fill out the form to join our private membership if you are interested.  Stay on our e-mail list….Then get in touch!
Call 505-340-3632 with questions.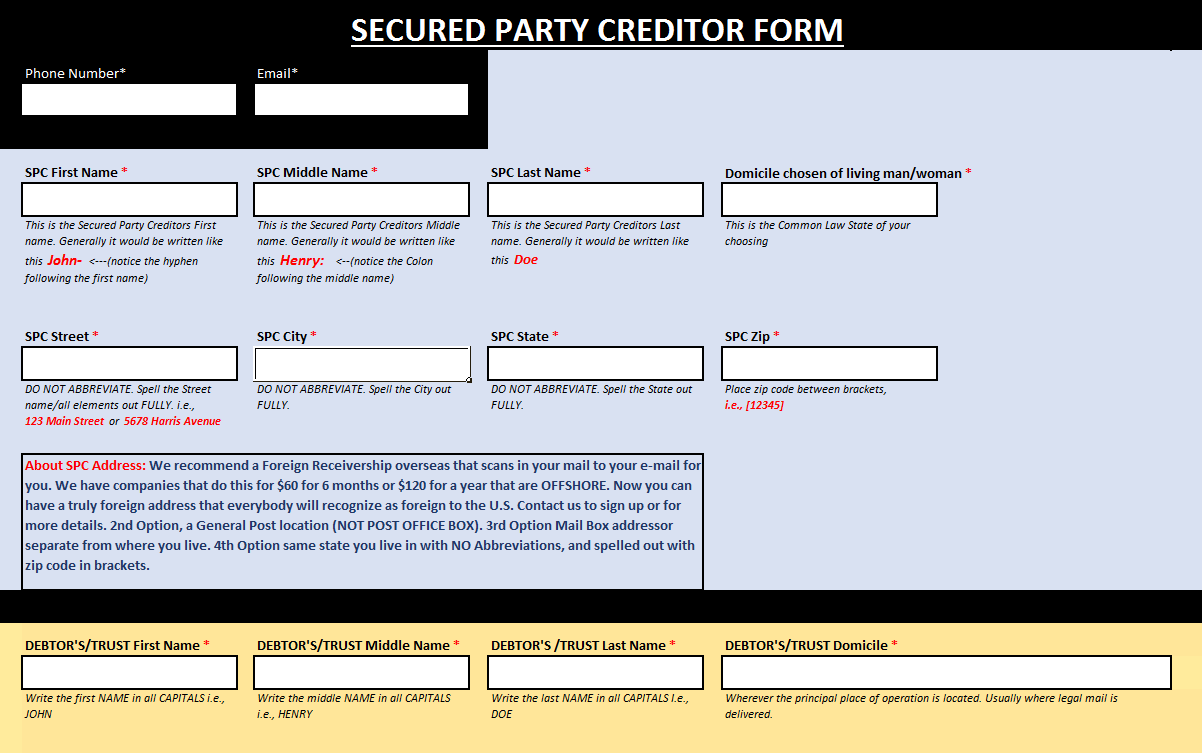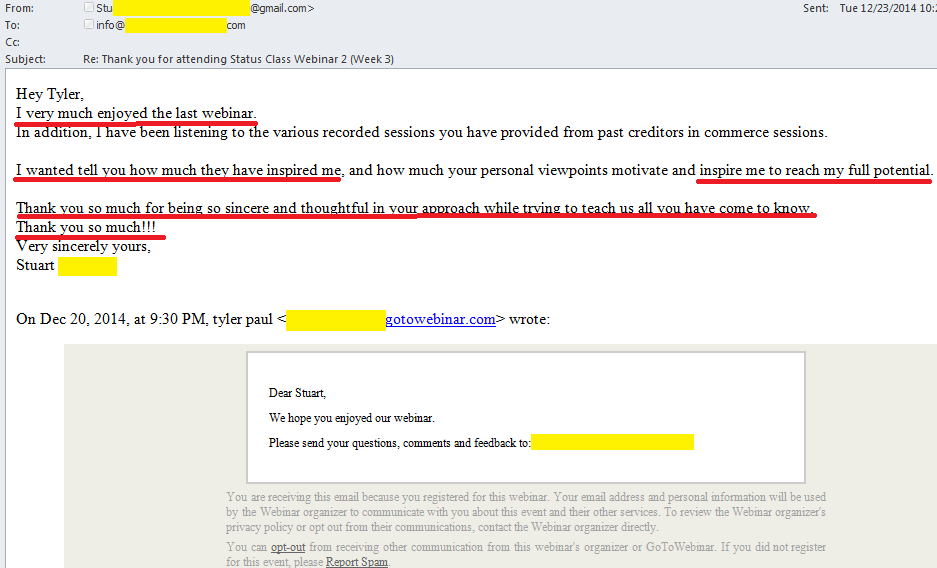 Hi All,
We are Holding Another Series. Call us at 505-340-3632 to jump on in the middle of this series and get a free ticket to the next series, starting March 1. If you sign up before January 10th, you get a special discount for registering as an "Early Bird". You can also jump on the classes currently happening now. Call & Talk with Jay or Tyler.
SEE THE PDF BELOW FOR A FULL ITEMIZED CRITERIA OF THE STATUS CORRECTION SEMESTER MATERIAL:
Watch the Entire Video Outline of the Table of Contents:
or listen to the abbreviated audio MP3 telling you about the course here

CALL 505-340-3632 TO TALK WITH A UCL STAFF MEMBER WHO CAN SIGN YOU UP. (CALL 7 DAYS A WEEK, from 11 am EST to Midnight EST usa)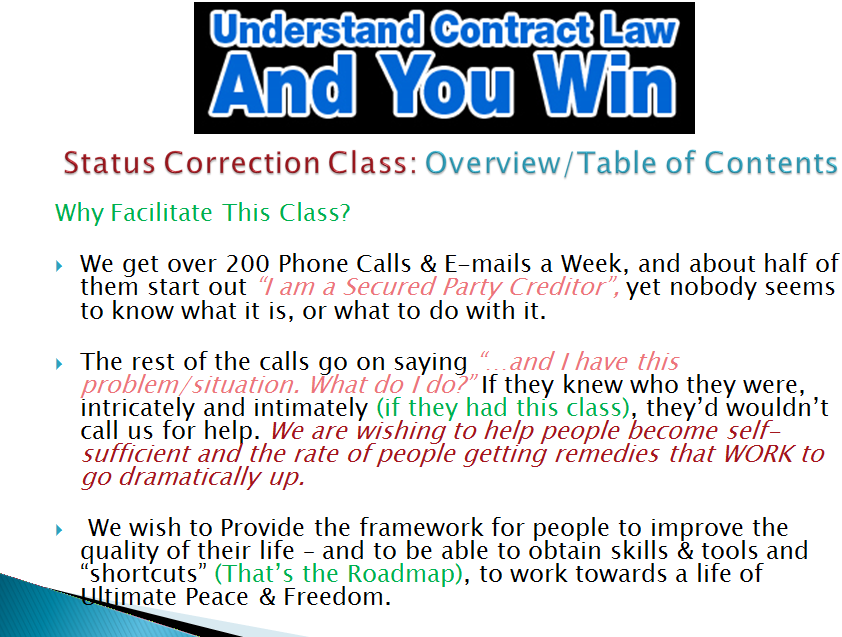 We are super excited to announce our upcoming Status Correction Class. Our intention is to facilitate solid, comprehensive discussion and detailed overview on the topic of "Political Status" – more precisely defined as Private Citizenship vs. Public Citizenship, American National vs Corporate Citizen, and NON-government-employee STATUS.   HOW do you prosper and obtain not just political freedom but financial freedom – abundance and wealth and truly live and provide an amazing life for you and your family.   How do you share that with your community and the world?
Can you change your STATUS?   and HOW does one do this if they wished to do so…
You can register here NOW:
http://understandcontractlawandyouwin.com/status-correction-class/
or visit our main site and click on "Status Correction Class" underneath our LARGE UCL BANNER/LOGO
We are extremely excited to be able to introduce this material to
the people of American and the world learning to take back their freedoms. PLEASE READ THIS ENTIRE POST before deciding to JOIN as it contains important information…
We will cover all the Material which is estimated to be between 12-15 Videos, which will be either in Modules or Live Webinars. 
Why are we holding this Comprehensive Series of Overview Classes?
When it comes to freedom, it's all about Status. Are you considered a Corporate Citizen
or are you considered free under the common law and without the control of the
corporate statutes?
Do you have the freedom to provide your
children and your family your own health and religious choices, freedom of
movement, and free to live out your own private contracts?
QUESTION:
Hi can you tell me how much will it cost to get all that information to form
my own trust and if the laws are very different to us in NZ?
ANSWER:
You don't own the trust. A trust is splitting the title between 3 or more people. You don't own the trust. You have to determine which role you wish to play? Grantor, Trustee, or Beneficiary? If you feel you don't know , then you do not know enough at this time to be involved with a trust properly. Plus you need to have the Trustee manage it properly. Otherwise, it will become viciated or nullified over time and any benefit of the use of or setting up a trust is going to be vacated and reversed and you may have a balloon of back taxes or whatever it is you are trying to protect will no longer be protected.
We set up common law trusts mostly for our clients. There is no statutory rules that govern the trusts, so NZ "New Zealand" is irrelevant. Your trust is private. New Zealand is a corporation. Why would you incorporate your trust and give authority to regulate it over to a corporation? We teach that you want to govern your own trust and you have 100% regulatory control over it.
I hope this helps to shed some insight. The first step for many is to read and study on trusts. Buying the templates from our website (there are a few versions under "Products" to chose from)…will help you as if you read the trusts along with the miscellaneous free trustee handbooks on common law trusts (Weiss's, or the Art of passing the buck, among others…) together will, in time, help you to understand how exactly to set up and run a trust properly and who to invite to participate. Remember 1 person can not be a trust, that is an individual and the assets and tax liability, etc is all on you.
Best bet is for you to set up a consultation so we can discuss what the purpose and goals you wish to take advantage of or benefit from, by setting up a trust and then we can talk about what you need to do to prepare, who you need to invite or contract with to form the trust, and what you need to study to manage it. Please see "Trustee Services" on our products section as well.
Tyler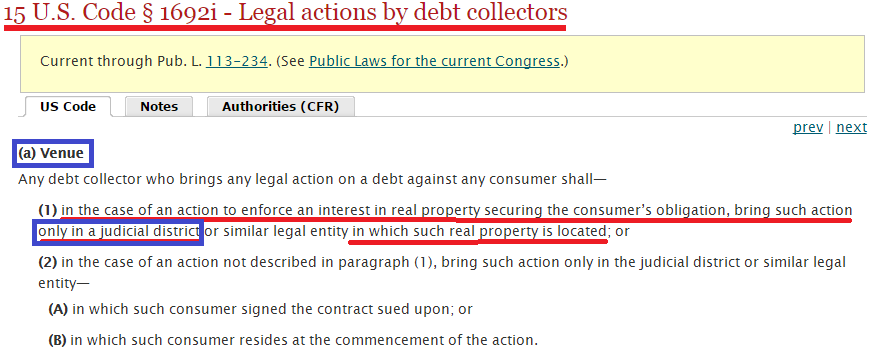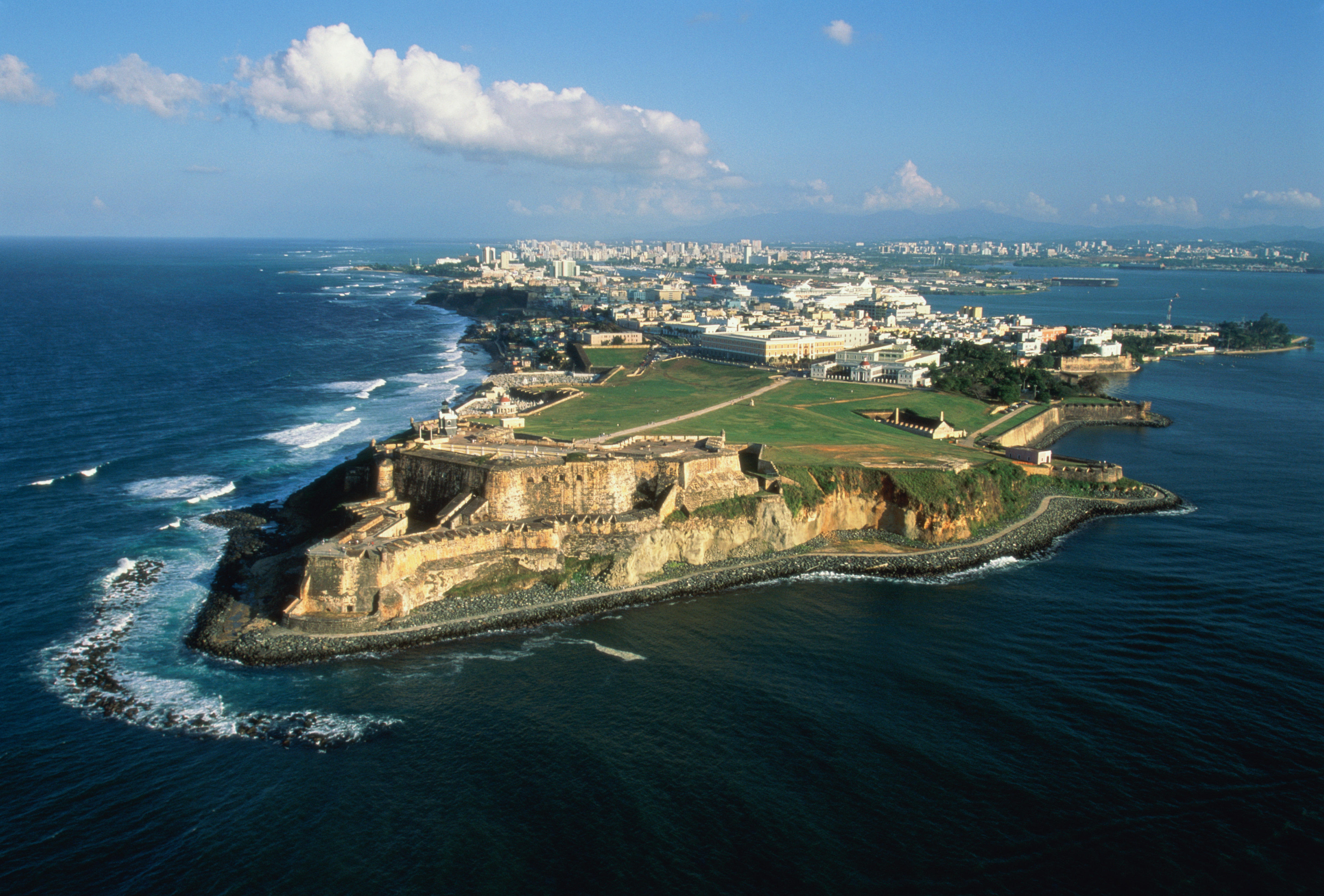 Puerto Rico might be about to cave in and waive it's sovereign immunity, at the demand of hedge-funds who are negotiating the terms on the island's government getting a new $3.5 billion financing done, officials indicated in a webcast Tuesday.
The deal will allow Puerto Rico to prevent default on its $70 billion debt.
The willingness to forgo sovereign immunity has been a "slippery slope" in negotiations between the Commonwealth and investors.
Puerto Rico, whose municipal debt was recently downgraded to what is called "junk status", plans to refinance and repay it's outstanding debt with the proceeds of the new financing.
The $3.5 billion will only last for around two years. It is expected to carry an interest rate of a whopping 10 percent.
Puerto Rico's investors include notable hedge funds like Fir Tree, Dan Loeb's Third Point, and Arrowgrass Capital Partners.
Third Point, whose Puerto Rican municipal bonds were one of its five top losing positions last year, said it isn't negotiating with the government on the new deal.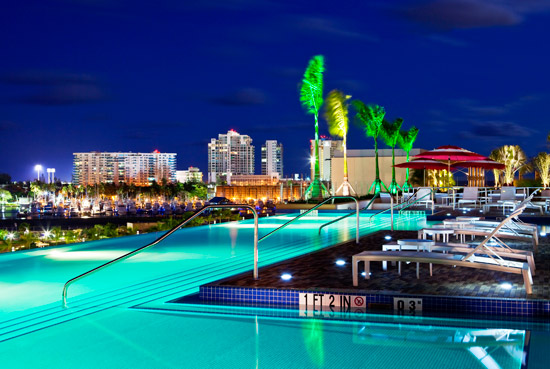 But hedge fund Stone Lion Capital Partners put it bluntly — asking on the webcast with Puerto Rican officials if they'd consent and agree to a New York venue [should it be hauled into court in the event of a default], and a waiver of sovereign immunity.
Replied one Puerto Rican official, saying it is "currently inclined to accept" the terms.
Waiving sovereign immunity will indeed put Puerto Rico in a perilous situation, said Hans Humes, CEO of Greylock Capital and a veteran of sovereign restructurings.
Humes said an additional annual interest payment of $350 million for Puerto Rico, on top of what it is now unable to pay, is a "substantial amount for a non-growth economy. Hedge funds are setting it up for default."
Delaying the inevitable default, the bankers are again pushing to take away the sovereignty of Commonwealth islands that are generally regarded as immunity to sovereigns and tax haven status. Watch out on that slipping away in the next few years from the Commonwealth of Puerto Rico.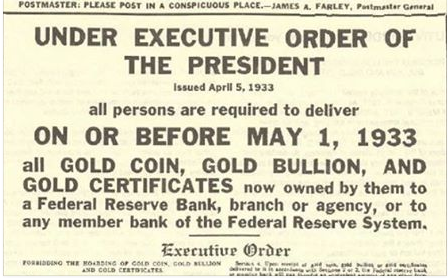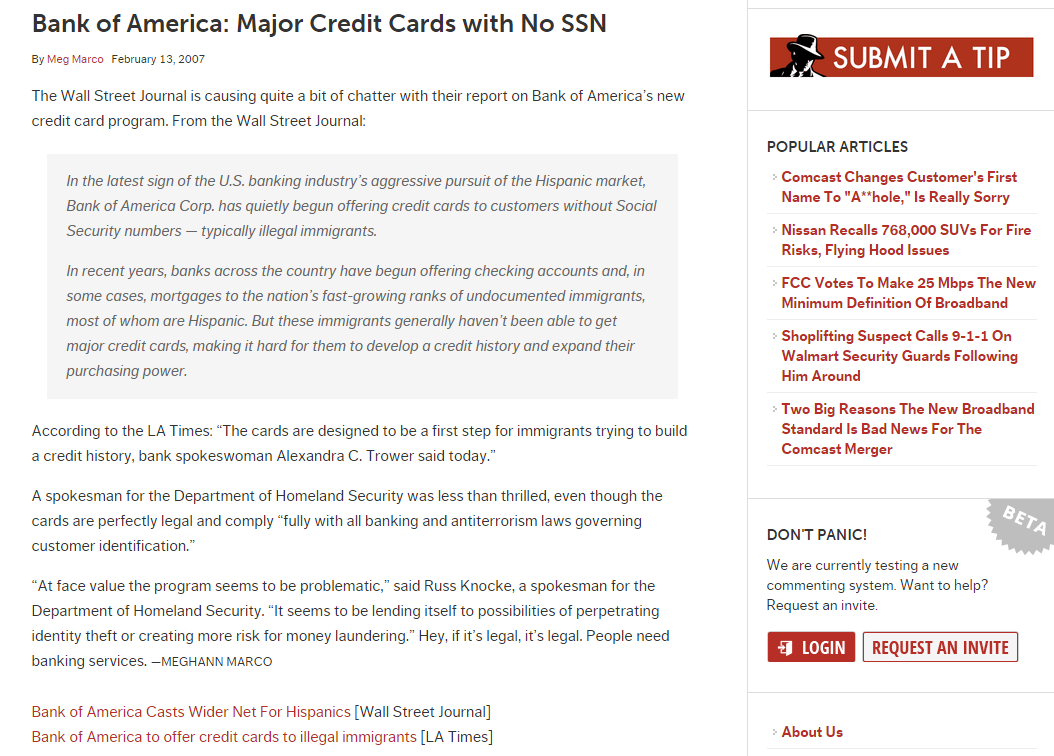 Antonio De La Cruz had been working at KFC for 10 years when he received a letter from the company informing him that unless he could provide an accurate name and Social Security number within the next three months, he would be fired. Dated March 6, it was effectively a pink slip for De La Cruz…
Nonetheless, Social Security no-matches are often a sign that the worker in question is undocumented. In 2007, under the leadership of then-Secretary Michael Chertoff, the Department of Homeland Security (DHS) attempted to implement a rule that would have required businesses to fire employees who could not resolve the no-match discrepancy within 90 days. Before it could go into effect, however, a federal judge ruled it illegal. The Obama administration recently dropped the proposed measure.
Read the entire article at http://inthesetimes.com/article/4741/fast_food_slow_justice
Also,  there was an article titled "Bank of America: Major Credit Cards with No SSN" on Washington Times and Reuters, but it got taken down suspiciously.
Bank of America is now giving credit cards to Illegal Aliens without any identification! They say that they want to get more of the Hispanic population to bank with them! What the hell is happening to this country? The next thing you know Illegal Aliens will be allowed to run for President! What part of 'ILLEGAL aliens' don't they understand? And why do we have to cater to them, especially when we have 'AMERICAN CITIZENS' who are in much more need of help then they do? This is an outrage!!
---
Today, Bank of America announced they will be opening accounts for illegal immigrants to boost their revenue.
Get this! The illegals don't have to have a social security number, etc. Although, the rates will be higher than those who have a social security number, I believe it sends a message of it's alright to be an illegal in this United States. I object and will be closing my checking account today. Enough is enough. They need to do the right thing and become legal. My grandparents came to this country legally in 1914 and honored the United States by becoming citizens.
If you have an account at the Bank of America and believe as I do close your account then pass this e-mail on. Hopefully our voices will be heard. We need to make a stand.
Origins:   The 13 February 2007 disclosure that Bank of America (BofA), the largest retail banking chain in the U.S., had been testing a pilot program to provide credit cards to customers who may not have had Social Security numbers made it the target of criticism. While Bank of America asserted that the pilot program (originally tested at five Southern California branches in 2006, then expanded to 51 branches in Los Angeles County) was about meeting the needs of potential customers rather than politics, its critics regarded the financial institution's act as a tacit endorsement of illegal immigration. As the Associated Press noted of Bank of America's pilot program:
Outspoken critics of illegal immigration called for a boycott and said the bank could be supporting terrorists and drug traffickers. Some outraged customers closed accounts and sent back their cards, cut up. The bank's chief executive, Ken Lewis, admitted that "finding oneself in the middle of a heated national debate is never pleasant."
(Although this item was recirculated as current in mid-2010, as far as we can ascertain Bank of America had by then dropped the credit card pilot program and opted not to expand it.)
The program was open to Bank of America customers who may have lacked both Social Security numbers and credit histories but who had maintained overdraft-free checking accounts with the financial giant for three months. While it is not strictly true that Bank of America was offering to establish credit for "illegal aliens," critics said the difference amounted to hair-splitting because most U.S. adults who don't have Social Security numbers are illegal immigrants.
Bank of America asserted that its program complied with U.S. banking and anti-terrorism laws. Critics said such services would enable illegal immigrants to put down roots more
easily in the U.S. and could provide them tax benefits to which they are not entitled. (Contrary to common belief, the Patriot Act requires that credit card issuers ensure their customers provide adequate documentation of identity; it does not mandate that credit card holders must have Social Security numbers.)
The Bank of America pilot credit cards carried a 21.24% interest rate and required payment of an upfront fee. The Wall Street Journal reported on one immigrant who had sneaked into the U.S. a decade ago, had been a customer of Bank of America for nine years, and had no credit history or Social Security number. He paid a $99 fee to obtain a $500-limit Visa card, and provided he stayed within his $500 credit limit and paid his balances in a timely fashion, he would receive his $99 security payment back in three to six months and would possibly see his credit limit increased as well.
Among the banking community, BofA was not alone in pursuing this segment of the potential customer base. Citigroup had been offering similar credit cards for years, and in 2006, Wells Fargo began offering home mortgages in Los Angeles and Orange counties to immigrants who had lived in the U.S. for at least two years. These customers were allowed to identify themselves using their individual taxpayer identification numbers (ITIN) issued by the Internal Revenue Service instead of Social Security numbers. ITINs are the same type of identification number immigrants could use to obtain credit cards under Bank of America's pilot program.
Critics said that it's too easy for undocumented immigrants to receive ITINs: "At face value the program seems to be problematic," Russ Knocke, a spokesman for the Department of Homeland Security. "It seems to be lending itself to possibilities of perpetrating identity theft or creating more risk for money laundering.
Bank of America ran a pilot program in 2007 offering credit cards to customers lacking Social Security numbers.
Read more at http://www.snopes.com/politics/immigration/bankofamerica.asp#uYJylsbtchS0uFBZ.99 
Video Contest:
Make a Video Presentation About Any Area of Contract Law such as Landmark Court Cases, Our Rights, Common Law, Fighting Debt Collectors, How to Open a Federal Lawsuit, Maxims of Law, Definitions, History, Legal Theory, How to Use or Buy Bitcoin, Asset Protection, Winning in Court, etc.
THIRD PRIZE – $200 in UCL STORE Credit plus other bonuses (see video)
SECOND PRIZE – $500 in UCL STORE CREDIT PLUS Next Five Creators of a Video with over 1000 Views gets €20 and Two Free Ebooks "How to Build Business Credit" and "How and Why to Set Up an International Business Corporation" (worth $197)
GRAND PRIZE – $1000 in UCL STORE CREDIT *or* a Contract for $500/$1000 per month to make videos for our private member community and Youtube audience – PLUS a $100 BITCOIN GIFT CARD if your Video gets over 5,000 Views
Every Participant With an Acceptable Video Will Earn $150 in Credit, equivalent to 90 Minutes of One-on-one Coaching with a Coach on the topics you wish to discuss remedy for, plus 6 Months of Email access and 2 follow up phone calls, and all 2014 Recorded Webinar Presentations for Download
We also have 2 Other Career Opportunities you can read about here:
http://understandcontractlawandyouwin.com/career
Why Not Get PAID for Studying the Law, Commerce, and Contracts? Why not get PAID to fight debt collectors? Why do all this for free? Partner with UCL, work from home, work from anywhere in the world on your laptop or phone, and get paid doing something rewarding!
See FULL Video from beginning to end for all details of the Contest! Send your video submissions to our Main E-mail Address.
If you do not have our e-mail it means you are NOT on our private membership list, and you should sign up at our website in order to be eligible. Good luck!
WHAT IS YOUR LEGAL NAME "JOHN HENRY DOE"?
READ WHAT YOUR LEGAL NAME OR STRAWMAN BIRTH CERTIFICATE TRUST REALLY IS?
YOUR STRAWMAN IS A

CONSTRUCTIVE TRUST

, BUT YOU CAN TAKE CONTROL OF IT BY RE-ORGANIZING IT AS AN EXPRESS TRUST
Pertaining to the Government, Statutory Courts/ Traffic Courts, and IRS, your LEGAL NAME "JOHN HENRY DOE" whether it is spelled in ALL CAPITALS or not, is construed by them as a TRUST.  So if you are trying to break free from external control and tyranny in your life, wouldn't it make sense to learn and study a bit about Trusts?
Did you know that you are considered to be property of the state,…You are a slave who is controlled solely by a master; the government? You are also being controlled by these colorable kangaroo courts maritime Admiralty military courts and are presumed lost at sea, as DEAD property; it is their hope that you never AWAKE FROM THE DEAD which is your long generational winter nap. BE AWARE that the GOVERNMENT behind the scenes is acting without your consent or your mother's permission (well at least unknowingly) and created what is known as and which is a great example of a constructive TRUST.
CONSTRUCTIVE TRUST VS EXPRESS TRUST    ( Example of A Constructive Trust )
What exactly is a Trust? A Trust is a Contract Between Two Parties for the Benefit of a Third Party.  All Trust's are contracts but all contracts are Trusts. There are many people that don't understand that they are operating everyday in contracts. Most of what we do in life is like operating in a trust, and don't even know it. As long as there are three parties involved playing the roles OF A TRUST, it can be construed and governed like a trust.  For example, did you know that even when you hire a baby sitter to watch your kids that you are appointing the babysitter as the Trustee over your children (property) for your (beneficiary) benefit? This is an example of a revocable trust.
In our webinars and conference calls and private trainings behind the scenes at Understand Contract Law and You Win, we show you the in's and out's of contracts and how to take control of your legal name as an EXPRESS TRUST so that you can set up all the bylaws and regulations the way that you want – truly making all the laws for your own dealings with you and your own life?  Why not set who the parties of the trust are, instead of having the legal system construe their presumptions to their own favor?

Lots of guru's and websites in the "freedom" / "Patriot" movement are talking about the infamous Secured Party Creditor filings. However, without re-expressing the trust of the JOHN HENRY DOE NAME, you have no foundation to go from, in order to put a claim as a secured party on the name. This way you are re-organizing and changing the constructive trust to an Express private trust. Now you have jurisdiction over all matters of the trust, NOT the "public officials" having jurisdiction over it.
What if I told you that someone made themselves beneficiaries to your ESTATE? They were appointed a position (not that you or your mother knew) within the trust, switched roles so that instead of you BENEFITING you always get left holding the bag AND PAY with your energy known as to the world as FRN'S (federal reserve notes).  ( The Constructive Trust of Your Legal Name is accomplishing just that )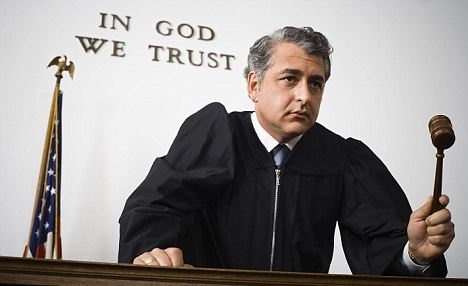 If you are ever going to awake from this long GOVERNMENT WINTER NAP and come back to take TRUE Ownership of your life/ your ESTATE you must begin by having an OPEN MIND to realize what has been done to you. Note to Self: The mind works just like a parachute; it only functions when it's open.  In trust law the beneficiary should receive proceeds and the trustee administers the trust , meaning he/ she is the one who settles the account, with that being said why not let it be known for the record even in court that you demand that this matter be  settled by the trustee expeditiously. You take control as KING and dismiss this case and there for the matter pertaining to the John Doe trust is resolved. In the old paradigm, the state/legal system has control because they are trustees of the constructive trust (they are even telling you this by posting "In God We Trust" above the Judge in any courtroom).
Why not protect your own assets? You should be the boss over your own estate. Having a trust setup is not just personal. You can also setup a trust for your business. How you ask? We have the most proven, effective status correction class that's going on RIGHT NOW! You can still get in to FREE yourself from the bondage.
When you TRULY discover Who You Really Are, and the Power you Posses, you begin on the journey to FREEDOM. Many of our private UCL members, call our group classes and other products (See "All Products" tab) TOOLS FOR FREEDOM, or GOLDEN NUGGETS that you need always keep in mind, hand and spirit. You need to eat, breath and sleep this stuff. With our Trustee Services and The Common Law Trust Setup, you'll be taken by the hand and driven in the right direction as to who, what, when, where and how you need to go about this whole process. You are not alone in this. UnderstandContractLawandYouWin.com is here.
A brand new world will be made available to you and like a genie in a lamp, you rub the genie the right way and whatever YOU desire will APPEAR before your very eyes and will be laid at your feet upon DEMAND.
Every day we are becoming like a basket of un-strained French fries sitting there left to soak up all the grease, while all of this stuff that clogs our arteries (brain). The end result is we are FRIED, DIED AND PUSHED OVER TO THE SIDE. We are then good for nothing more but to be consumed and used in this constructive trust, by a hungry monster who is always inching and wants his belly filled with proceeds from your hard earned sweat again called federal reserve notes.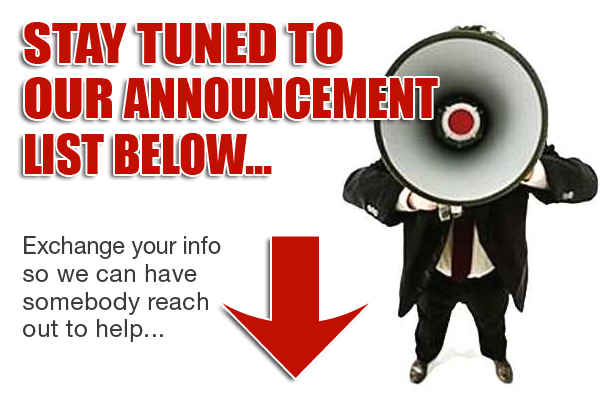 Related Topics:  Constructive Trust Elements, Implied Trust, Institutional Constructive Trust, Resulting Trust V Constructive Trust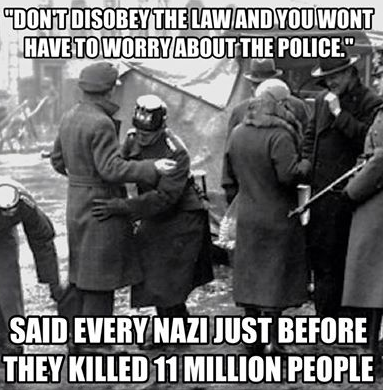 "If you're not doing anything wrong you have nothing to worry about!"
Right…
Gavin Seim pulls over a Grant County WA deputy for an unmarked car violation. Details here: bit.ly/1syLD3v. See the uncut video here: http://youtu.be/DPtudZ3R6U4.
Update: The sheriff is getting the cars marked. But its seems it's only because we called him out. Listen to this interview and see what he says.
So I made this traffic stop today…
It's very off the cuff. I had about 60 seconds from the moment I thought "NOW is the time to address this" and flagged the officer over, to the moment I was engaging him.
Email Sheriff Tom Jones (tjones@co.grant.wa.us) and ask him to get Grant County and it's subordinate agencies in compliance with the law.
In Washington we have unmarked police vehicles impersonating citizens. If you think it's not a serious issue, try asking those that have been raped or lost loves ones because of unmarked cars. It's already illegal in WA for public vehicles to be unmarked, unless designated for "special undercover or confidential investigative purposes." I'll post the legal details and debunk the myths at the bottom. It's also worth noting that this was not the first the Grant County Sheriff's office heard about this. I called about a month ago and filed an official report addressing my concern with unmarked cars in the area.
Tolerating lawlessness does not fix anything and at this stage of our decline, neither does writing a letter. I get called every possible name for taking up the liberty conversation. Sadly many Americans hate America and hate liberty. But as in my courthouse incident, standing firm and principled works. If I'm dealing with a disrespectful tyrant, I put them in their place. It's a matter of safety to never allow a bully to feel they can intimidate you. We can stand up them. — Thankfully that was not a problem today because Deputy Canfield handled this well. I informed him of the law and and he now has the opportunity to fix it. — I want officers to treat people with respect and I in turn do the same. Disrespectful public servants should never be tolerated, respectful ones should be commended.
Ordinary looking unmarked police cars slink around and entrap, so they can write folks up (read tax) for petty faults. That's not protecting. As my brother Blake says, "serve and protect, not harass and collect." — But this is also a major safety issue. Unmarked vehicles are a ripe opportunity for confusion in a citizens reaction and for criminals to impersonate lawful authority to get people to stop.
People have been raped and even murdered because of this, so the law is good sense. In WA, all municipal and police vehicles must be marked UNLESS they fall under special exemptions. These exemptions do not apply to patrol vehicles. There's even a past WA State court precedent where a man fled police and his felony charge was thrown out because the pursuing vehicle was not legal. Pretty interesting. There have also been traffic infractions thrown out because the officers car was not marked.
Ask yourself. Do you want your sisters and daughters stopped on the road, not knowing if they are facing an officer or a killer until it's too late?
Check the laws in your State and if you see an unmarked vehicles running around your community, go question your officers. If it's a local police unit and they refuse to comply, report the offense to your County sheriff who is responsible to make sure the law is followed. In this case we have local police, Sheriff and State police violating our law, so we have work to do. If there is no law in your State, call your legislator and demand that it be addressed for the safety of our roads.
If you're stopped by an unmarked vehicle I would not suggest running. But don't pull over on a dark lonely street either. Indicate to the officer that you see him, drive to an occupied well lit area like a gas station. You can also dial 911 and confirm if the officer at your location is legit. And if you question that an officer might now not be who he says he is, don't be afraid to demand ID. We have a right to be safe on our streets.
Finally, ALWAYS film the encounter. I cannot stress this enough. If you stand your ground, stand principled and film everything, you will be much safer than cowering before lawless authority. It's our job to police the government. We the people have all the authority and we must hold them accountable. I wrote an article here with some tips on filming police.
Small issues lead to big ones. This is not simply about unmarked cars. It's about accountability and a government that respects and obeys the people, their rights and the law. We are losing our country America, but if we all stand up we can take it back. Liberty is not the fringe. It's the foundation.
UPDATE 10/21/14: I went in yesterday to setup an official meeting with Grant County Sheriff Tom Jones so we could address compliance with State law and have an open dialogue. 15 minutes after I set the meeting, I received a message from his office saying he WILL NOT allow recording and there will be NO MEETING if I'm recording. We showed up anyways for the meeting and he met with us in the lobby.
— Gav
DISCLAIMER NOTICE: Nunc Pro Tunc to January 1, 2012: All Rights Reserved. www.UnderstandContractLawAndYouWin.com or any agent thereof does not give legal advise. The information contained herein is for entertainment purposes, and we at most hope that it stimulates your thought process to consider the variety of potential solutions, and to seek competent legal, tax, or financial advice from a trained professional. The information contained herein is for generic brainstorming, entertainment, and is not meant as legal advice for any specific legal situation you are in. Contact with an agent of UCL is considered PRIVATE and Confidential. If you do not agree to these terms, you must exit the website. | If you agree to those terms, you may contact us privately for questions or information, via Email (fill out form on right-side of webpage), or by Phone: 505-340-3632 under those terms at all times. All Communication is PRIVATE, confidential, and without the consent or agreement of monitoring of any third-party.