DISCLAIMER NOTICE: Nunc Pro Tunc to January 1, 2012: All Rights Reserved. www.UnderstandContractLawAndYouWin.com or any agent thereof does not give legal advise. The information contained herein is for entertainment purposes, and we at most hope that it stimulates your thought process to consider the variety of potential solutions, and to seek competent legal, tax, or financial advice from a trained professional. The information contained herein is for generic brainstorming, entertainment, and is not meant as legal advice for any specific legal situation you are in. Contact with an agent of UCL is considered PRIVATE and Confidential. If you do not agree to these terms, you must exit the website. | If you agree to those terms, you may contact us privately for questions or information, via Email (fill out form on right-side of webpage), or by Phone: 505-340-3632 under those terms at all times. All Communication is PRIVATE, confidential, and without the consent or agreement of monitoring of any third-party.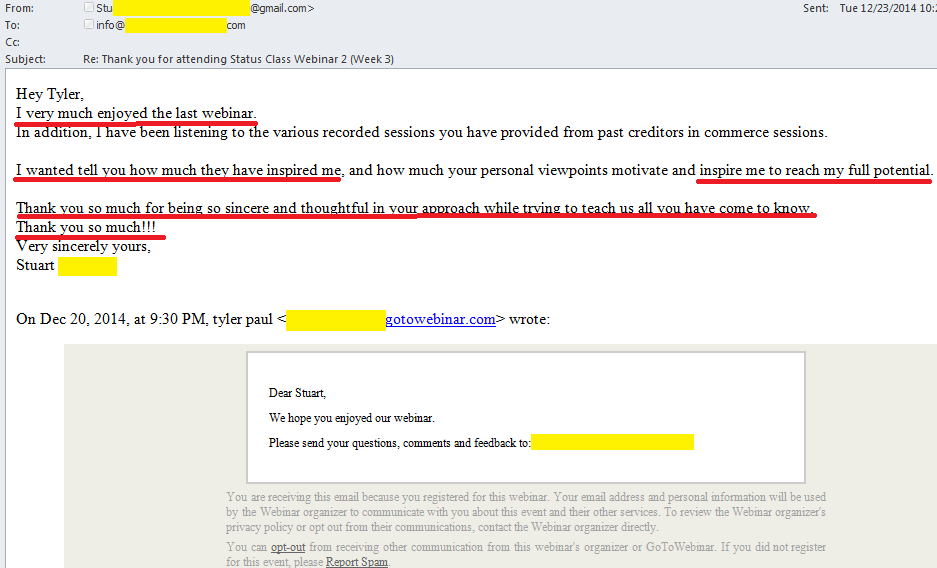 Hi All,
We are Holding Another Series. Call us at 505-340-3632 to jump on in the middle of this series and get a free ticket to the next series, starting March 1. If you sign up before January 10th, you get a special discount for registering as an "Early Bird". You can also jump on the classes currently happening now. Call & Talk with Jay or Tyler.
SEE THE PDF BELOW FOR A FULL ITEMIZED CRITERIA OF THE STATUS CORRECTION SEMESTER MATERIAL:
Watch the Entire Video Outline of the Table of Contents:
or listen to the abbreviated audio MP3 telling you about the course here

CALL 505-340-3632 TO TALK WITH A UCL STAFF MEMBER WHO CAN SIGN YOU UP. (CALL 7 DAYS A WEEK, from 11 am EST to Midnight EST usa)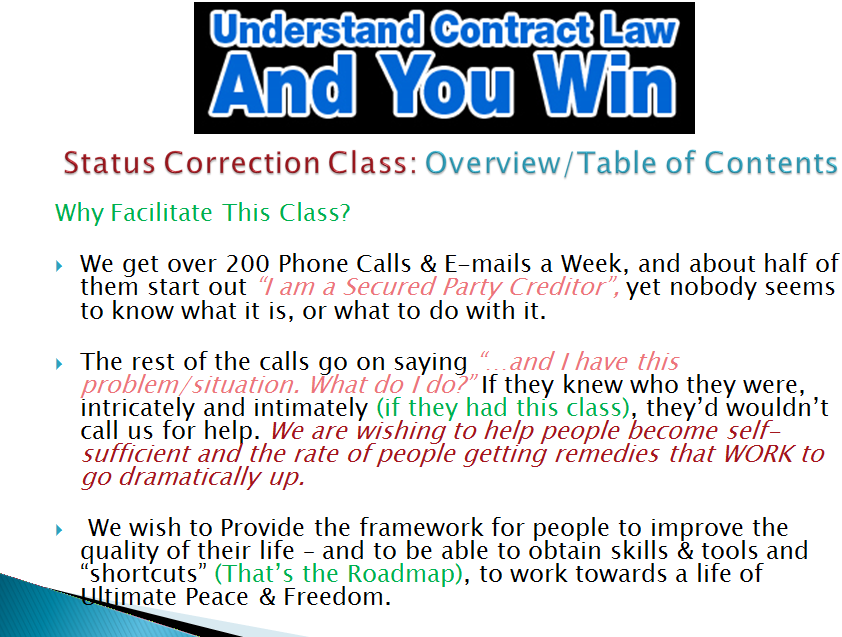 We are super excited to announce our upcoming Status Correction Class. Our intention is to facilitate solid, comprehensive discussion and detailed overview on the topic of "Political Status" – more precisely defined as Private Citizenship vs. Public Citizenship, American National vs Corporate Citizen, and NON-government-employee STATUS.   HOW do you prosper and obtain not just political freedom but financial freedom – abundance and wealth and truly live and provide an amazing life for you and your family.   How do you share that with your community and the world?
Can you change your STATUS?   and HOW does one do this if they wished to do so…
You can register here NOW:
http://understandcontractlawandyouwin.com/status-correction-class/
or visit our main site and click on "Status Correction Class" underneath our LARGE UCL BANNER/LOGO
We are extremely excited to be able to introduce this material to
the people of American and the world learning to take back their freedoms. PLEASE READ THIS ENTIRE POST before deciding to JOIN as it contains important information…
We will cover all the Material which is estimated to be between 12-15 Videos, which will be either in Modules or Live Webinars. 
Why are we holding this Comprehensive Series of Overview Classes?
When it comes to freedom, it's all about Status. Are you considered a Corporate Citizen
or are you considered free under the common law and without the control of the
corporate statutes?
Do you have the freedom to provide your
children and your family your own health and religious choices, freedom of
movement, and free to live out your own private contracts?
Video Contest:
Make a Video Presentation About Any Area of Contract Law such as Landmark Court Cases, Our Rights, Common Law, Fighting Debt Collectors, How to Open a Federal Lawsuit, Maxims of Law, Definitions, History, Legal Theory, How to Use or Buy Bitcoin, Asset Protection, Winning in Court, etc.
THIRD PRIZE – $200 in UCL STORE Credit plus other bonuses (see video)
SECOND PRIZE – $500 in UCL STORE CREDIT PLUS Next Five Creators of a Video with over 1000 Views gets €20 and Two Free Ebooks "How to Build Business Credit" and "How and Why to Set Up an International Business Corporation" (worth $197)
GRAND PRIZE – $1000 in UCL STORE CREDIT *or* a Contract for $500/$1000 per month to make videos for our private member community and Youtube audience – PLUS a $100 BITCOIN GIFT CARD if your Video gets over 5,000 Views
Every Participant With an Acceptable Video Will Earn $150 in Credit, equivalent to 90 Minutes of One-on-one Coaching with a Coach on the topics you wish to discuss remedy for, plus 6 Months of Email access and 2 follow up phone calls, and all 2014 Recorded Webinar Presentations for Download
We also have 2 Other Career Opportunities you can read about here:
http://understandcontractlawandyouwin.com/career
Why Not Get PAID for Studying the Law, Commerce, and Contracts? Why not get PAID to fight debt collectors? Why do all this for free? Partner with UCL, work from home, work from anywhere in the world on your laptop or phone, and get paid doing something rewarding!
See FULL Video from beginning to end for all details of the Contest! Send your video submissions to our Main E-mail Address.
If you do not have our e-mail it means you are NOT on our private membership list, and you should sign up at our website in order to be eligible. Good luck!
WHAT IS YOUR LEGAL NAME "JOHN HENRY DOE"?
READ WHAT YOUR LEGAL NAME OR STRAWMAN BIRTH CERTIFICATE TRUST REALLY IS?
YOUR STRAWMAN IS A

CONSTRUCTIVE TRUST

, BUT YOU CAN TAKE CONTROL OF IT BY RE-ORGANIZING IT AS AN EXPRESS TRUST
Pertaining to the Government, Statutory Courts/ Traffic Courts, and IRS, your LEGAL NAME "JOHN HENRY DOE" whether it is spelled in ALL CAPITALS or not, is construed by them as a TRUST.  So if you are trying to break free from external control and tyranny in your life, wouldn't it make sense to learn and study a bit about Trusts?
Did you know that you are considered to be property of the state,…You are a slave who is controlled solely by a master; the government? You are also being controlled by these colorable kangaroo courts maritime Admiralty military courts and are presumed lost at sea, as DEAD property; it is their hope that you never AWAKE FROM THE DEAD which is your long generational winter nap. BE AWARE that the GOVERNMENT behind the scenes is acting without your consent or your mother's permission (well at least unknowingly) and created what is known as and which is a great example of a constructive TRUST.
CONSTRUCTIVE TRUST VS EXPRESS TRUST    ( Example of A Constructive Trust )
What exactly is a Trust? A Trust is a Contract Between Two Parties for the Benefit of a Third Party.  All Trust's are contracts but all contracts are Trusts. There are many people that don't understand that they are operating everyday in contracts. Most of what we do in life is like operating in a trust, and don't even know it. As long as there are three parties involved playing the roles OF A TRUST, it can be construed and governed like a trust.  For example, did you know that even when you hire a baby sitter to watch your kids that you are appointing the babysitter as the Trustee over your children (property) for your (beneficiary) benefit? This is an example of a revocable trust.
In our webinars and conference calls and private trainings behind the scenes at Understand Contract Law and You Win, we show you the in's and out's of contracts and how to take control of your legal name as an EXPRESS TRUST so that you can set up all the bylaws and regulations the way that you want – truly making all the laws for your own dealings with you and your own life?  Why not set who the parties of the trust are, instead of having the legal system construe their presumptions to their own favor?

Lots of guru's and websites in the "freedom" / "Patriot" movement are talking about the infamous Secured Party Creditor filings. However, without re-expressing the trust of the JOHN HENRY DOE NAME, you have no foundation to go from, in order to put a claim as a secured party on the name. This way you are re-organizing and changing the constructive trust to an Express private trust. Now you have jurisdiction over all matters of the trust, NOT the "public officials" having jurisdiction over it.
What if I told you that someone made themselves beneficiaries to your ESTATE? They were appointed a position (not that you or your mother knew) within the trust, switched roles so that instead of you BENEFITING you always get left holding the bag AND PAY with your energy known as to the world as FRN'S (federal reserve notes).  ( The Constructive Trust of Your Legal Name is accomplishing just that )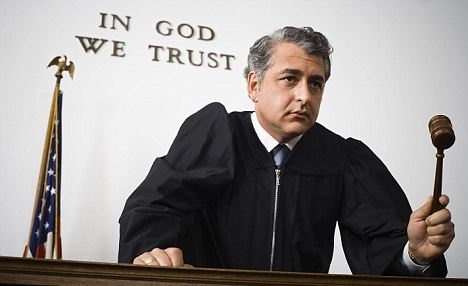 If you are ever going to awake from this long GOVERNMENT WINTER NAP and come back to take TRUE Ownership of your life/ your ESTATE you must begin by having an OPEN MIND to realize what has been done to you. Note to Self: The mind works just like a parachute; it only functions when it's open.  In trust law the beneficiary should receive proceeds and the trustee administers the trust , meaning he/ she is the one who settles the account, with that being said why not let it be known for the record even in court that you demand that this matter be  settled by the trustee expeditiously. You take control as KING and dismiss this case and there for the matter pertaining to the John Doe trust is resolved. In the old paradigm, the state/legal system has control because they are trustees of the constructive trust (they are even telling you this by posting "In God We Trust" above the Judge in any courtroom).
Why not protect your own assets? You should be the boss over your own estate. Having a trust setup is not just personal. You can also setup a trust for your business. How you ask? We have the most proven, effective status correction class that's going on RIGHT NOW! You can still get in to FREE yourself from the bondage.
When you TRULY discover Who You Really Are, and the Power you Posses, you begin on the journey to FREEDOM. Many of our private UCL members, call our group classes and other products (See "All Products" tab) TOOLS FOR FREEDOM, or GOLDEN NUGGETS that you need always keep in mind, hand and spirit. You need to eat, breath and sleep this stuff. With our Trustee Services and The Common Law Trust Setup, you'll be taken by the hand and driven in the right direction as to who, what, when, where and how you need to go about this whole process. You are not alone in this. UnderstandContractLawandYouWin.com is here.
A brand new world will be made available to you and like a genie in a lamp, you rub the genie the right way and whatever YOU desire will APPEAR before your very eyes and will be laid at your feet upon DEMAND.
Every day we are becoming like a basket of un-strained French fries sitting there left to soak up all the grease, while all of this stuff that clogs our arteries (brain). The end result is we are FRIED, DIED AND PUSHED OVER TO THE SIDE. We are then good for nothing more but to be consumed and used in this constructive trust, by a hungry monster who is always inching and wants his belly filled with proceeds from your hard earned sweat again called federal reserve notes.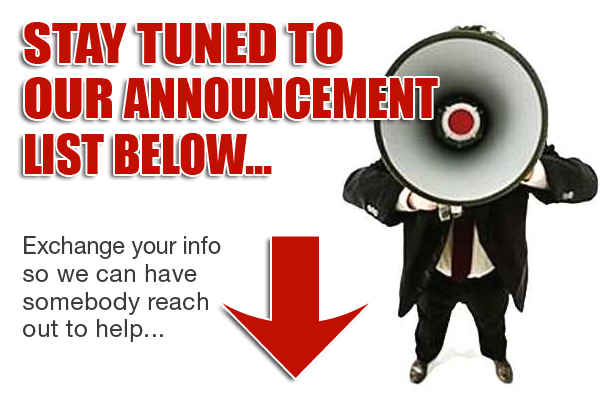 Related Topics:  Constructive Trust Elements, Implied Trust, Institutional Constructive Trust, Resulting Trust V Constructive Trust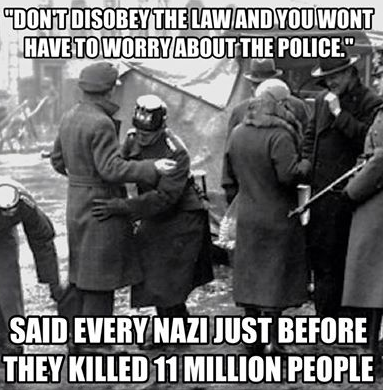 "If you're not doing anything wrong you have nothing to worry about!"
Right…
Gavin Seim pulls over a Grant County WA deputy for an unmarked car violation. Details here: bit.ly/1syLD3v. See the uncut video here: http://youtu.be/DPtudZ3R6U4.
Update: The sheriff is getting the cars marked. But its seems it's only because we called him out. Listen to this interview and see what he says.
So I made this traffic stop today…
It's very off the cuff. I had about 60 seconds from the moment I thought "NOW is the time to address this" and flagged the officer over, to the moment I was engaging him.
Email Sheriff Tom Jones (tjones@co.grant.wa.us) and ask him to get Grant County and it's subordinate agencies in compliance with the law.
In Washington we have unmarked police vehicles impersonating citizens. If you think it's not a serious issue, try asking those that have been raped or lost loves ones because of unmarked cars. It's already illegal in WA for public vehicles to be unmarked, unless designated for "special undercover or confidential investigative purposes." I'll post the legal details and debunk the myths at the bottom. It's also worth noting that this was not the first the Grant County Sheriff's office heard about this. I called about a month ago and filed an official report addressing my concern with unmarked cars in the area.
Tolerating lawlessness does not fix anything and at this stage of our decline, neither does writing a letter. I get called every possible name for taking up the liberty conversation. Sadly many Americans hate America and hate liberty. But as in my courthouse incident, standing firm and principled works. If I'm dealing with a disrespectful tyrant, I put them in their place. It's a matter of safety to never allow a bully to feel they can intimidate you. We can stand up them. — Thankfully that was not a problem today because Deputy Canfield handled this well. I informed him of the law and and he now has the opportunity to fix it. — I want officers to treat people with respect and I in turn do the same. Disrespectful public servants should never be tolerated, respectful ones should be commended.
Ordinary looking unmarked police cars slink around and entrap, so they can write folks up (read tax) for petty faults. That's not protecting. As my brother Blake says, "serve and protect, not harass and collect." — But this is also a major safety issue. Unmarked vehicles are a ripe opportunity for confusion in a citizens reaction and for criminals to impersonate lawful authority to get people to stop.
People have been raped and even murdered because of this, so the law is good sense. In WA, all municipal and police vehicles must be marked UNLESS they fall under special exemptions. These exemptions do not apply to patrol vehicles. There's even a past WA State court precedent where a man fled police and his felony charge was thrown out because the pursuing vehicle was not legal. Pretty interesting. There have also been traffic infractions thrown out because the officers car was not marked.
Ask yourself. Do you want your sisters and daughters stopped on the road, not knowing if they are facing an officer or a killer until it's too late?
Check the laws in your State and if you see an unmarked vehicles running around your community, go question your officers. If it's a local police unit and they refuse to comply, report the offense to your County sheriff who is responsible to make sure the law is followed. In this case we have local police, Sheriff and State police violating our law, so we have work to do. If there is no law in your State, call your legislator and demand that it be addressed for the safety of our roads.
If you're stopped by an unmarked vehicle I would not suggest running. But don't pull over on a dark lonely street either. Indicate to the officer that you see him, drive to an occupied well lit area like a gas station. You can also dial 911 and confirm if the officer at your location is legit. And if you question that an officer might now not be who he says he is, don't be afraid to demand ID. We have a right to be safe on our streets.
Finally, ALWAYS film the encounter. I cannot stress this enough. If you stand your ground, stand principled and film everything, you will be much safer than cowering before lawless authority. It's our job to police the government. We the people have all the authority and we must hold them accountable. I wrote an article here with some tips on filming police.
Small issues lead to big ones. This is not simply about unmarked cars. It's about accountability and a government that respects and obeys the people, their rights and the law. We are losing our country America, but if we all stand up we can take it back. Liberty is not the fringe. It's the foundation.
UPDATE 10/21/14: I went in yesterday to setup an official meeting with Grant County Sheriff Tom Jones so we could address compliance with State law and have an open dialogue. 15 minutes after I set the meeting, I received a message from his office saying he WILL NOT allow recording and there will be NO MEETING if I'm recording. We showed up anyways for the meeting and he met with us in the lobby.
— Gav
Here are some recent questions to clarify the process of demanding verification of your debt on your credit cards…
The credit card company is calling me, and in their calls they keep saying it would be in my best interest to call them back.
OK they are debt collectors. They are trying to talk with you LIVE so that they can convince you to pay on the phone with them. They are trained to talk you into paying them or admitting you owe over the phone. Everytime you admit you owe, the statue of limitations clock starts all over again.

I am trying to get that letter written and sent that you suggested.
A powerful letter sent via third party witness and all that is a good start. If it's a third party collector, it will usually work by itself. If it's the original creditor, they will not stop until they've done a 1099-C or until the Statute or Limitations is over, or until you Sue them or they might find it worth their efforts to open suit against you.
You must be prepared with all the right defenses and have your dispute letters and affidavits of non response from your third party witnesses, etc. on standby ready to go as witnesses/evidence in your case if it does go to court.  As part of a private membership agreement, members on our team can do the entire strategy preparation for you starting at $1000 per credit card/account…in case your interested what it will cost. That includes if you get a lawsuit we help you beat it. Credit score protection/improvement for an additional rate on top of that. Guaranteed to take the "late payments"/"deficiency" item off your report or you do not pay.

Can I dispute the account even though I haven't stopped making payments?
They are usually never going to write back saying "AHH YOU GOT US. You disputed it and we can't verify it. We are going away now, you win. Congratulations."  You are disputing it so that you have EVIDENCE in case there is a lawsuit, combined with citing the LAWS in your paperwork accepting and invoking the protections that require them to verify the debt (by oath or affirmation and authentic evidence/documentation). You can use this to defeat a lawsuit (if you properly prepare it and use proper procedure), and you can use it to fix your credit report. Usually if you show the proof of the dispute/verification demand plus the affidavit(s) of service and affidavit of non-response(s), it will come off the credit report. However, you need to go through a third-party because they will ignore you if you do it yourself. That's why the members on our team are helpful; we have been doing this for years and have it down to a science.
Since they never put any of their own money up but just created it out of thin air, I don't think I owe them anymore than what I have already paid them many times over.
You may be right…if you have your ducks in a row, you can pull the card and away. You can only dispute the balance if you've stopped paying it. Otherwise, it's not in dispute, it's current and you are obviously not disputing anything if you are consenting to paying it!
If bitcoin's true believers ever found their tax-free libertarian utopia, Christopher Ellis could be in charge of the passport office.
Ellis has built software that lets anyone create what he calls a "World Citizenship" passport. Using PGP encryption software and the bitcoin blockchain—a cryptographically secured public ledger that runs on machines across the internet—the project creates a mathematically iron-clad identification paper that would be extremely difficult, perhaps impossible, to fake.
This is the next generation of bitcoin. It came of age as a digital currency, but developers are pushing the blockchain and blockchain-like technologies into whole new areas. Last month, a project called Ethereum raised $15 million, promising to use a blockchain clone to provide distributed computing resources. And Overstock.com announced a plan to use the blockchain for an online stock exchange.
In the spirit of bitcoin, people, not nation-states, would issue… READ MORE
Hmm…Should a corporation be liable in a criminal indictment because people chose to ship prescription drugs? Wow.
SAN FRANCISCO — Federal prosecutors say several addicts died soon after receiving shipments of illegal prescription drugs via FedEx (FDX).
The deaths were included in a new indictment filed late Thursday against FedEx that adds money laundering to a list of charges the company is facing over allegations it knowingly shipped illegal prescription drugs from two online pharmacies.
Full of brilliant common sense! Mrs. Martin takes us behind the curtain to see in rich detail what alternative education really looks like when it bestows upon its subjects the freedom to choose. Every parent who feels compelled to give their kids into the care of total strangers should read this book.

–John Taylor Gatto, Author: Dumbing Us Down And Weapons of Mass Instruction
Radical Unschooling is a progressive parenting philosophy, which includes children learning at home. It is different from homeschooling in that children are not forced to follow curriculum lessons and tests. Radical Unschooling philosophy focuses on trust of a child's innate ability to learn without coercion and invites children to explore their passions.
The parent's role is to facilitate their interests and curiosity. Radical Unschooling – the book – focuses also on the evolutionary aspect of parenting and human consciousness. We are parenting and educating our children today to succeed in a joyful, productive life by following their passions, not someone else's agenda.
The main presentations are:
– School is only one of many choices for our children in our technologically advanced world.
– Forced learning isn't effective and causes more damage than formerly thought.
– Respecting a child's choice and autonomy is an evolution of understanding and birth right of every human.
– Learning and life are not separate. Learning is pleasurable if it is not forced on us.
– Separating life into subjects isn't necessary or natural.
– Humans learn from all that they do and experience in life, not just what our culture deems "educational."
– The main focus of parenting today is obedience and meeting the needs of the parent.
This has to change if we want our children to live in a peaceful world. Moreover, Radical Unschooling is just radical enough to herald a wake up call to our culture because of the truth the philosophy speaks.
Dayna Martin  has been inspiring others for over a decade by sharing her experience through natural birth, attachment parenting and Unschooling.  She is an activist,  educator and author of, Radical Unschooling: A Revolution Has Begun, and her newest book, Sexy Birth. Dayna has proudly advocated for Radical Unschooling through the media for the last eight years.  This has allowed thousands of other parents to learn about Unschooling and to proudly live their lives without fear.   The movement of  Unschooling is growing tremendously thanks to her bravery and unrelenting drive to share Unschooling with the world. Her choice to live out loud is one with powerful inspiration that is changing the world and offering more respect, peace and freedom to families worldwide.
Dayna been featured on Dr. Phil, CNN, Nightline, Australia's most popular morning news program, Morning Sunrise, The Jeff Probst Show, ABC's hit show, Wife Swap, Fox News, 60 Minutes Australia and the Bethenny Show. She was used as an informational resource for Unschooling stories on the Discovery Channel, The Today Show and Our America on the OWN Network and was even filmed for 12 hours for the Oprah Winfrey Show. She travels the world as the UnNanny, and is a featured speaker at the major parenting and education conferences worldwide. Dayna recorded and uploaded the first video ever, about Unschooling for YouTube!
Radical Unschooling is an evolution of our understanding about learning and the rights and respect of children. We are on the cusp of change and many people are looking for alternatives to the traditional schooling model. With Unschooling, we are reprioritizing. We are taking back our freedom and putting happiness, connection and family first!
- Dayna Martin
***NEW! Dayna and her family have a reality Vlog series on YouTube. Check out these episodes and learn about Radical Unschooling while learning more about her family and their everyday life: Subscribe to The Sparkling Martin's Channel here.
Attached below shows the success that a fellow Australian UCL student who beat a Credit Card lawsuit after buying and studying the EYP product.
Some examples of some "free" document editable templates are here, but the EYP package is a comprehensive step-by-step guide with tools for anyone fighting credit cards, debt collectors, and more, and  a wonderful educational tool to empower people.  
To protect the client's privacy, her name/etc is blanked out.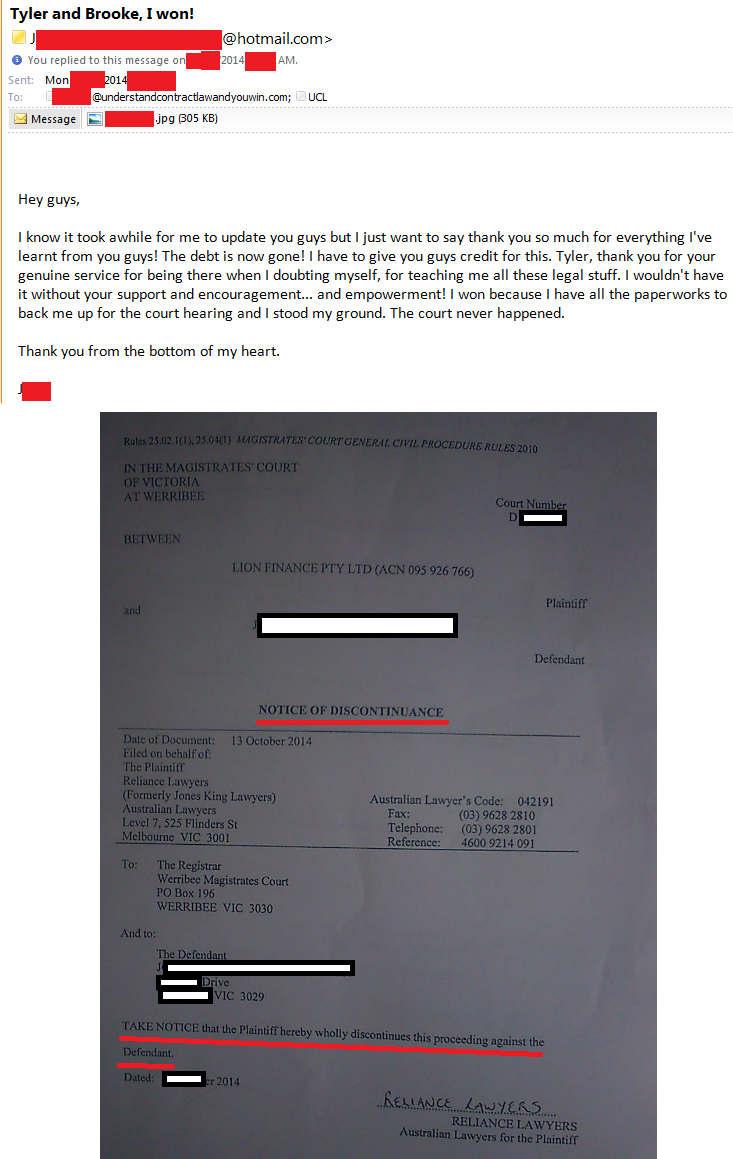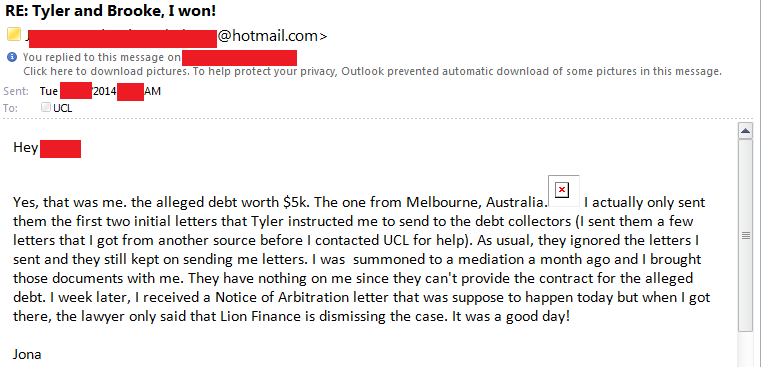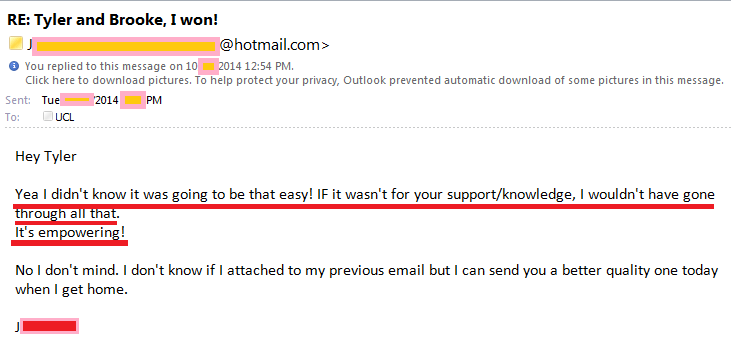 LEGAL DISCLAIMER: Although the client said that they felt the lessons and processes were "easy", depending on the vivaciousness of the attorneys, the amount they have to gain (the amount of the debt), the particular judge/court/district, the selection of process/defense that you use in your case, and several other factors unique to your particular situation, the amount of work to get them to back off, or to get a full remedy, may vary. Some fights may involved more work, and be more time consuming than others. Because of this, for a case that you are in control of, we can not guarantee any outcomes. Anyone not willing to take SOME risk, should continue paying their credit cards and/or work out a settlement directly with the bank that involves paying them a lump sum of part of your balance. Failure to do so, and risk to "fight it out" in court, may result in a victory (as above), or may result in a judgment against you leading to a garnishment of wages and levy of funds from your bank account(s), as well as other possible penalties.
Anyway, this is also proof that UCL remedies CAN work and be applied with Successes ALL OVER THE WORLD.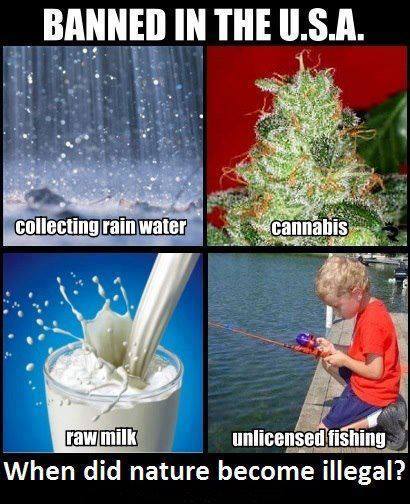 Remember, the U.S. is a political jurisdiction, NOT a geography. U.S. person's are regulated by U.S. laws. The U.S. is a private corporation [28 U.S.C. Sec. 3002(15)]
DISCLAIMER NOTICE: Nunc Pro Tunc to January 1, 2012: All Rights Reserved. www.UnderstandContractLawAndYouWin.com or any agent thereof does not give legal advise. The information contained herein is for entertainment purposes, and we at most hope that it stimulates your thought process to consider the variety of potential solutions, and to seek competent legal, tax, or financial advice from a trained professional. The information contained herein is for generic brainstorming, entertainment, and is not meant as legal advice for any specific legal situation you are in. Contact with an agent of UCL is considered PRIVATE and Confidential. If you do not agree to these terms, you must exit the website. | If you agree to those terms, you may contact us privately for questions or information, via Email (fill out form on right-side of webpage), or by Phone: 505-340-3632 under those terms at all times. All Communication is PRIVATE, confidential, and without the consent or agreement of monitoring of any third-party.