THE EMPOWER YOURSELF PACK IS BEING UPDATED and is due for early release 2017, and will be chock full of remedies available to Secured Party Creditor's. It will ONLY be available to those who already have the STATUS CORRECTION COURSE, or the SPCDONE4U process;  most of the remedies only WORK if you are a sovereign / private citizen / secured party creditor, so we encourage you to sign up for one of these courses/services first.
We encourage you to Contact us by PHONE at

505-340-3632

to discuss with a Sales Consultant, which is the best product/service for you, to help accomplish your stated goals. If you join our e-mail list (green/white bar on the side), you can call for a free 10-20 min consult, or you can set up a full in depth coaching call with a seasoned contract law expert.
EMPOWER YOURSELF PACK – Our Signature Product:
Jeff:
Audio clip: Adobe Flash Player (version 9 or above) is required to play this audio clip. Download the latest version here. You also need to have JavaScript enabled in your browser.
Scott:
Audio clip: Adobe Flash Player (version 9 or above) is required to play this audio clip. Download the latest version here. You also need to have JavaScript enabled in your browser.
MAKE SURE TO CALL AND ASK US FOR A SNEAK PEAK INSIDE THE EMPOWER YOURSELF PACK, WE WILL DO A SCREENSHARE OR SEND YOU A VIDEO… [CALL 05-340-3632]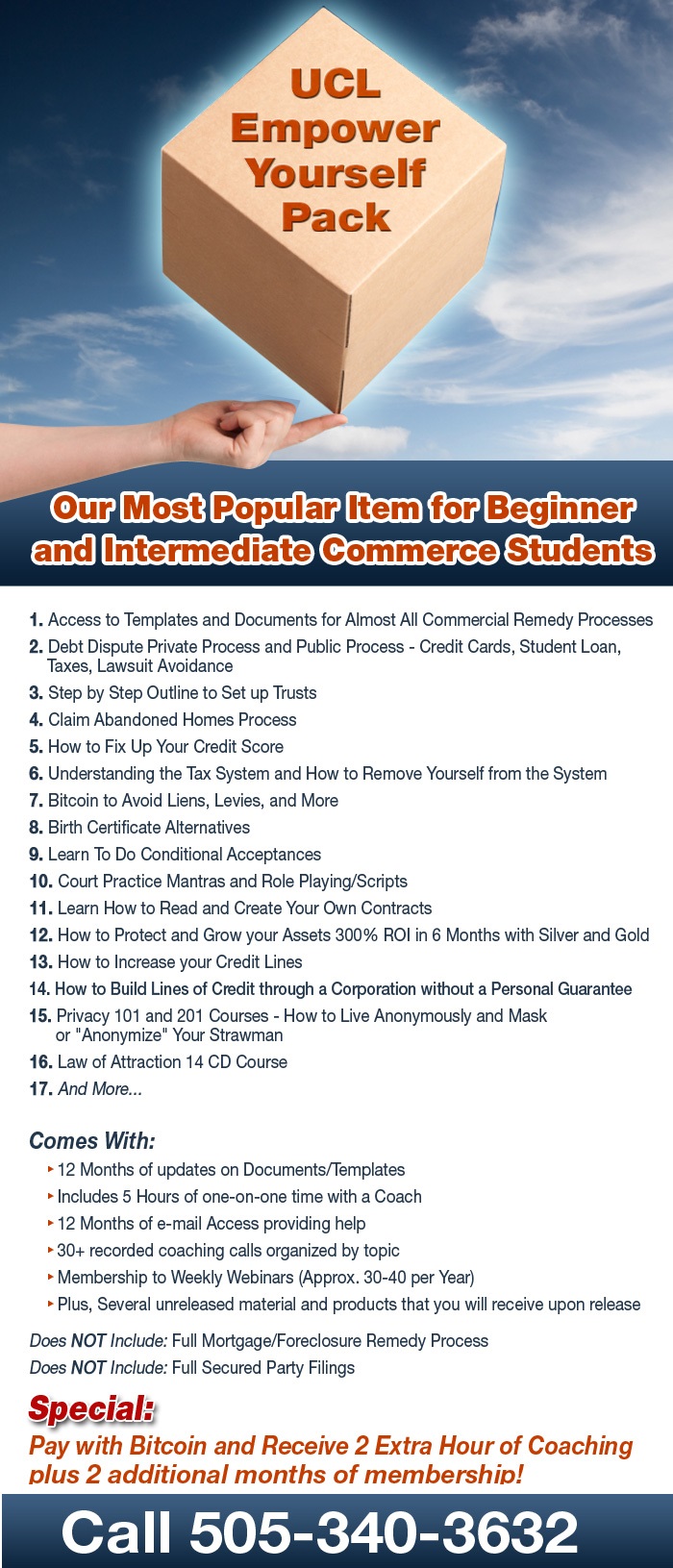 If You Choose Option 1 (Budget Option): 
You'll receive all the documents included in the Video Above (and re-listed here below) to teach you to: 1) Become Sovereign 2) Discharge Certain Debts 3) Win Public Court Proceedings 4) Enforce Private Administrative Processes 5) Change Your Status to a Secured Party Creditor 6) Protect your Privacy 7) Empower Yourself & Your Community in with invaluable Personal Growth 8) Claim Abandoned Homes for Free 9) Set up Trusts and Operate Through a Common Law Trust   +Get 12 MONTHS OF FREE UPDATES +1 Hour of Coaching +14 Days of EMAIL SUPPORT For Your Support of $1000!
If You Choose Option 2 (Most VALUE):
For a Total Price of a $1500 Payment, you'll receive everything in Option 1, plus in addition: —A total of up to 3 hours of telephone support/document review (if paid all up front); [or 4 Hours if paid over time];  and – –6 Months worth of e-mail support to ensure you get all the help and hand-holding you need. —If paid all up front, any additional time/hours needed within the next 6 months are HALF-OFF the rate on the website (i.e. additional hours for questions regarding the pack, if needed, can be purchased for $50/hour instead of $100) —Free Live Seminar Entry (if your in the Northeast) —Free bi-Weekly (and possibly Weekly) Conference Call Access (To Be Determined)…. —A FREE invitation to join our Debt Elimination Affiliate Program (Just start referring clients to us and you'll make money on your 2nd referral! Nothing else necessary) —Invitations & Consideration for Partnership on Future Sovereign, Debt, and Trust Projects, collaboration and our best students might be offered internship opportunities
OPTION 2 BONUSES:
BONUS 1:   ONE MORE additional HOUR of telephone support of Email support making that a total of FOUR HOURS of personal hand-holding and specific questions answered (starting at any time you choose to initiate the customer support).
BONUS 2: 
 PLUS a copy of the 14 CD Series "Your Wish is Your Command"… (see 
www.ManifestYourWish.com
) (sold separately for $99-$400 elsewhere)
BONUS 3: Your Subscription to 30 WEBINARS FOR THE YEAR
BONUS 4:
BUY BEFORE
AUGUST 31, 2014
AND RECEIVE 1 FREE YEARS FOR FREE!  THAT'S 24 MONTHS MEMBERSHIP!
BONUS 5:  FREE 60 DAY SUBSCRIPTION TO TYLER'S INTERNET MARKETING WEBINARS (a $800 Value) – teaching how to make money on the internet from home without needing any experience!!!
The EMPOWER YOURSELF PACKAGE will teach you:
1) Step-by-Step How to Do Your Own Admin Discharge Processes that puts you in Control so you won't be dependent on anybody else. (How to AUTHOR/design your own process)
2) Step by Step Videos Holding Your Hand Through the Process – A Series of 10+ Private Videos, you Can Download Onto Your Computer or access online
3) How to do a "Three Step" Administrative Procedure, with a 3rd party Adjudicator/Record-Keeper Presentment and File Your Claim with the Secretary of State or with a Public Court for Ratification, to Discharge any Public Debt and/or Compel Performance!
4) How To Get an Abandoned Home for Free! (With No Burglary Charges Attached! We're talking about getting a Declaratory Judgment *and Title* in Court! Works Every Time it's been done exactly as we outline!)
5) How To Create Your Own Common Law Trust (With Templates) for Asset Protection/Reduce Tax Burden
6) How to Reverse Wage Withholdings Agreement — How to Take TAXES OUT of Your Paycheck!
7) How to Extend Time needed for any court hearing, summons, expiration of license, etc – TEMPLATES INCLUDED
8) Step-by-Step of How to File a UCC-1 Financing Statement to: a) provide public notice of your claim; and b) so you can use a Bond to settle any Debt
9) Letters to Make Debt Collectors go away with Simple Instructions
10) How and When to Use a Certificate of Service Instructions
11) How and Why You Need a 3rd party Adjudictor/Record-Keeper and NOT a Notary Public to present your documents
12) Concepts on Helping Those Innocent/Good people who have records or probation obligations and give you a strategy for Setting Off those obligations… (warning – experts only – this is a VERY difficult and involved process and is for educational purposes only!)
13) Step-by-step Guides going over Administrative Procedures, Accepted for Value, and   14) A new process every 30-60 days on something that you will probably find valuable!
14) How to Remove Fraudulent Items from your Credit Report — NEW
PLUS: