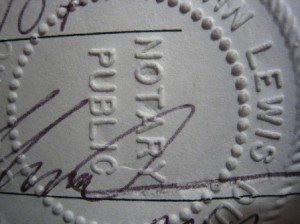 Notary Protest and Dishonor UCC 3-505
The following excerpts are from a document titled NOTARY CERTIFICATE OF DISHONOR PROCESS created and distributed by Sovereignty Education and Defense Ministry (SEDM). It is a thorough summary of the process and underlying foundational concepts. Please see the link below for the full PDF document.
http://sedm.org/forms/procs/notcertdishproc-sample.pdf
What do we mean by Notary Protest and Dishonor UCC 3-505?
In commercial redemption processes, involving a Notary Public in any commercial dispute is for the purpose of gathering credible, admissible evidence of dishonor for use in resolving the dispute. A notary public is a "public officer" within the government, and as such, their official records are considered "public records" and are exempted from the Hearsay rule, Federal Rule of Evidence 802.
To have success in commercial redemption, as a creditor, as a sovereign, it is foundational to know and understand the concepts of Honor and Dishonor in contract law.
Honor – Dishonor
"Everything you do in life – whether a draft or a bill for services rendered, a request to do chores, or a letter asking why you did not file your taxes, is a draft (an offer). Every time you are addressed by some person, company, or agency, realize you may be lured into responding inappropriately. By law, you have 72 hours (three days) to change your mind on entering into any contract. When you do respond, you must analyze what you are really being asked to do or perform, or whether you are making assumptions about what is being requested. Every response falls into one of four categories. The first two leave you in honor and in control. The last two leave you in dishonor and you will lose:
1. Conditionally Accept (CA) the offer
2. Accept the offer
3. Argue; or,
4 Ignore, be silent, acquiesce.
Frequently, creditors will intentionally take advantage of your commercial ignorance in order to set you up or entice you into dishonor and cause you to lose. This is accomplished in many ways, such as:
1. They make you an offer, demand or draft so outrageous that it entices you to argue.
2. They lure you to respond in a manner which technically is an argument.
3. They give you a far-off "respond by date" so that you do not respond within 72 hours.
4. They don't tell you how to sure a prior dishonor.
5. They don't respond at all to you so you don't know what's happened
Some dishonorable responses include: Complaining about a service and refusing to pay it, disputing a charge on your credit card statement, not responding at all to someone who angers you, replying with an untruthful or outrageous response.
Remember, all facts are irrelevant and fly out the window when there is dishonor. A judge can only intercede if there is controversy. If there is stipulation, he has nothing to do and that's the end of it. You have "energy" and control if you stay in honor."
Notary Protest and Dishonor UCC 3-505 – the UCC article can be found here:
http://www.law.cornell.edu/ucc/3/3-505.html
Uniform Commercial Code
U.C.C. – ARTICLE 3 – NEGOTIABLE INSTRUMENTS
..PART 5. DISHONOR
§ 3-505. EVIDENCE OF DISHONOR.
(a) The following are admissible as evidence and create a presumption of dishonor and of any notice of dishonor stated:
(1) a document regular in form as provided in subsection (b) which purports to be a protest;
(2) a purported stamp or writing of the drawee, payor bank, or presenting bank on or accompanying the instrument stating that acceptance or payment has been refused unless reasons for the refusal are stated and the reasons are not consistent with dishonor;
(3) a book or record of the drawee, payor bank, or collecting bank, kept in the usual course of business which shows dishonor, even if there is no evidence of who made the entry.
(b) A protest is a certificate of dishonor made by a United States consul or vice consul, or a notary public or other person authorized to administer oaths by the law of the place wheredishonor occurs. It may be made upon information satisfactory to that person. The protest must identify the instrument and certify either that presentment has been made or, if not made, the reason why it was not made, and that the instrument has been dishonored by nonacceptance or nonpayment. The protest may also certify that notice of dishonor has been given to some or all parties.