Third Party Debt Collectors are pretty easy to get to go away.
When dealing with Third Party Debt Collectors, you don't need to do any Accepted for Value (A4V) or filing any Bonds or UCC's. The simple Debt Validation Process is used, and often times, like in this example below, the companies close your account before you even finish your "Three Step" Private Administrative Process.
This debt validation process, consists of a Private International Remedy Demand, Debt Collector Disclosure Statement, and Certificate of Service. You must keep good records and serve the other party in person or via mail through either *two third party witnesses* (non family) or, one Notary Public witness.
Here's a sample of one success from our client Beating Off a Third Party Debt Collector: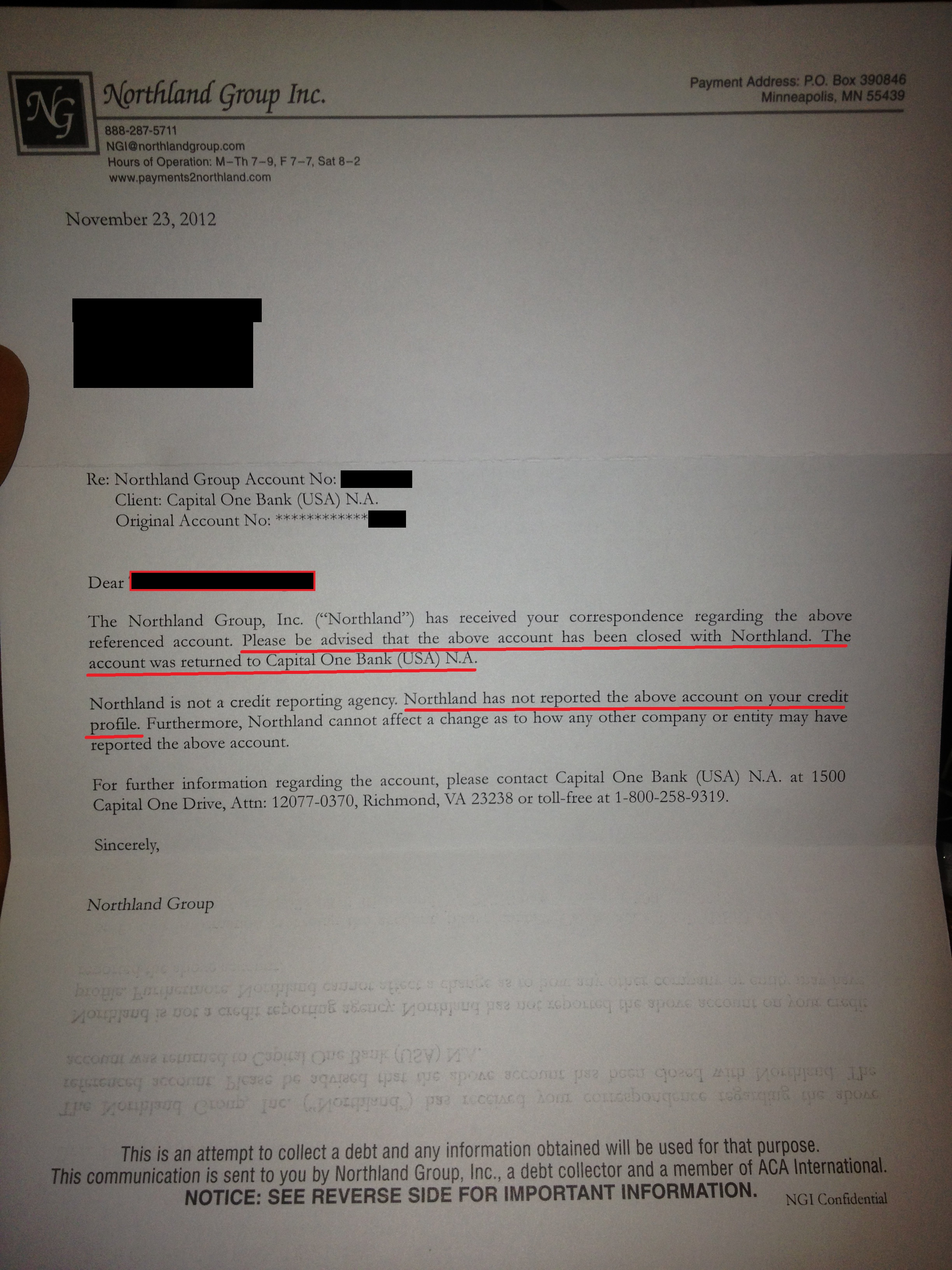 Once you do not receive a response in 30 days, you will have the Witnesses execute an Affidavit of Non-Response and enclose that with all your mail receipts into your file as a record. You always want to keep a complete and accurate record. Sloppy records will come back to haunt you, so keep it neat!
Your Certificate of Non-Response is a key piece of evidence, and with step 2 (Notice of Fault and Opportunity to Cure) and Step 3 (Notice of Default) you are building up a valuable record; pieces of evidence that would beat off any potential lawsuit, court proceeding, and the like and give you success in court. Obviously if you keep these records and document that you are to the Third Party Debt Collector (or any company contacting you in attempts to collect a debt), they will realize your competency and most likely leave you alone and never sue you. They don't want to pay for legal action only to loose and collect nothing.
The Third Party Debt Collectors are looking to see if you have done your process sloppy (first time experience), or if you actually know what you are doing, and our organization has never had a client who lost and had to pay money to a third party debt collector.
If you are trying it on your own and have the time and dedication to learn, you can simply pay for coaching whenever you have a response or a hurdle or question. Or you can hire our team to work on your process for you (see our fees, or set up a paid consultation to discuss – see below).
The only issue is that they will contact the "Original Creditor" and the original Creditor *may* still pursue legal action against you. So you will want to strongly consider first making sure you first have A4Ved or Set Off the original debt with the Credit Company.
Sometimes the Original Creditor, upon the account being turned back to them, do not go after you. They might think that if you were smart enough to fight off a Third Party Debt Collector, you are smart enough to beat the original Credit Card Company and win. The companies don't want to waste their time trying to sue people who are successful, as there are plenty of Debtors and ignorant people who do not know how to handle these contract offers that they receive.
So make sure you know how to and/or are prepared to set off or A4V the debt with the original creditor, or contact us to do so if you need to.
If you don't lawfully erase your debts, you run the chance of getting a Judgment in a Public U.S. Court from either a Third Party Debt Collector, or the Original Creditor, and either way this can lead to your Public Bank Accounts being levied and having funds seized, as well as any of your assets, and garnishment of wages. It's not the end of the world, but it's something that if you can avoid you should.
We would like to offer you as much help as possible in fighting off these Third Party Debt Collectors and helping you to Set Off, Settle, and Close the Accounts you have with any Public Debt via some of the remedies that we discuss on our website.
If you need to discuss, please contact us any time. Five minute phone calls for quick questions are free and if you join our email list on the right-hand side you'll also get on our e-mail list to receive Notice of Special Offers and insider info that is not always posted on the website 😉
Third Party Debt Collectors can be beaten if you understand Contract Law so, make sure you get with a mentor or coach or some good training material such as our website. You can contact us after submitting a donation via the right-hand side of this website for a 1/2 hour consultation for $50.00 or a full hour for $100.00