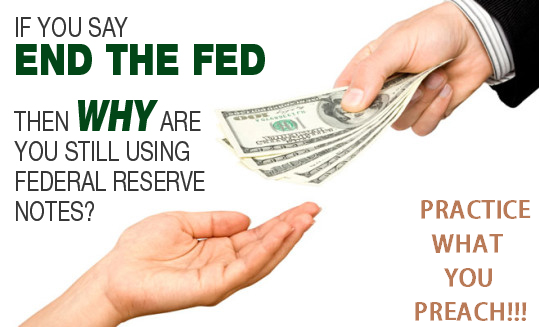 REASONS TO BOYCOTT FEDERAL RESERVE NOTES:
1. BOYCOTT THE INTERNATIONAL BANKERS ENDGAME & AGENDA 21
2. WITHDRAW YOUR CONSENT TO FED'S POLICIES THAT CAUSE INFLATION & ECONOMIC HARDSHIP TO MILLIONS
3. RECLAIM YOUR SOVEREIGNTY – STOP USING THEIR MONEY AS A BENEFIT WHICH ALLOWS THEM TO CONTROL YOU
4. PROTECT YOUR ASSETS – STORE ANY $$ IN GOLD AND SILVER
5. THE US DOLLAR IS WORTHLESS AND LESS EVERY SINGLE DAY
6. PROTECT YOUR IDENTITY AND WHEREABOUTS OF YOUR PURCHASE
7. EVENTUALLY, THE U.S. DOLLAR WILL COLLAPSE AND ALL THE FRN'S WILL BE ESSENTIALLY WORTHLESS
8. THE U.S. PRESIDENT ON THE FRONT IS *NOT MY GOD*
9. IF I USE MY OWN COMMODITY TO TRADE AS VALUE, I CAN RECLAIM MY SOVEREIGNTY
THE CHOICE IS CLEAR:  
If you are against "the banking system" why would you invoke or engage in the use of their notes with their selected Historical "Presidents" (CEO's of a Military Industrial Complex)  in the first place?
Will you join us in a boycott of the Federal Reserve?   Use your "cash" to buy the equivalent value of bitcoin, silver, or gold.
You can operate in the capacity of the Private Trustee. Download our "Common Law Trust" setup package, and start using a private trust to engage in contracts and transactions with others. Sign Independent Contractor Agreements (avail in our EYP Pack) between ABC TRUST and DEF TRUST. Take our Trust Education Course.
Then, once established, have your Trust establish it's own Bitcoin Account. Have the Trust purchase Silver and Gold. Get familiar with the different companies where you can get Coins or Bars for a good value. Start funding your Trust by having any entity buy Gold and Silver to fund the trust, or Deed Property into the Trust. In time, the gold and silver (or bitcoin) will be worth 150% and then 200% in PURCHASING POWER!  When you liquidate it, learn to use Euros, Yen, and other foreign currencies, or Bitcoin, Litecoin, Peercoin, and/or other "cryptocurrencies".
Help us Promote WORLD PEACE. Stop feeding the Military Agenda and the Military Industrial Complex that has military bases Occupying over 130 Countries worldwide. Boycott Dictatorship!
If you'd like to Get a Step-by-Step on Setting Up Your Bitcoin Account in 5 minutes, Click Here to Get Started with Bitcoing and Other Cryptocurrencies.
Take it a step further and set up a Diplomatic Post Office box for your "Foreign ESTATE" or your private Trust to receive all "private" contracts, exchanges, and transactions.
If you wish to pay for any UCL services with bitcoin, Call/Email us and we will give you a bitcoin address that you can pay securely and safely online. You will start creating the new habit of operating as a sovereign, and you will sleep good at night knowing that we don't have to pay one-third of your payments to us to the IRS…  This is a movement and if you wish to support us with as much resources as we can muster, in order to build up our team, our contributors, and our services like new documents, more regular Webinars, and cheaper products, we wish for you to Pay Us in Bitcoin because it helps us keep MORE money in OUR pocket (or…err…Bitcoin account)!
There comes a time when you need to walk the walk and start practicing what you preach.
Join our Upcoming Curriculum on Alternatives Where You Will Learn:
1. Places to BANK where your DEPOSITS are backed by GOLD.
2. Establishing Sovereign TRUSTS & Operating them effectively – and where most people F*** Up and How to Avoid It!
3. Using and Investing and even "Mining" the new digital Cryptocurrencies; and a Plan to Turn Around $1000 into $5000 -or – to convert $20,000 to Generate $200,000 in Value in Alternative Currency within ONE to TWO YEARS.
4. Ways to Operate with Bitcoin and Other "Crypotcurrencies" 
5. Tax Advantages to Using Crypto
6. OFFSHORE BANKING, How to Do It Legally and Reporting Requirements
7. Other Ways to Contribute to the Community for Wealth Sustainability and Economic Prosperity
8. Stop Increasing the National DEBT. Every time you Elect to Use Federal Reserve Notes, you CHARGE THE U.S. TREASURY WITH THE BILL
BECAUSE YOU DIDN'T PAY WITH REAL MONEY (GOLD AND SILVER)
Fill Out Our Sign-Up Form Below – to be Notified of our Upcoming Class – This List is ONLY for this Upcoming Class, it is a NEW and Different List….you will Only Receive Info About This Class.  You will receive prerequisite Study Material, and be given an Application and Asked to Submit a Deposit (in Bitcoin) when we have enough people signed up!  We would like to Start on or around July 1, 2014!   Empower Yourself Pack Members for 2014 will not be charged.  Total Price of Tuition for NON-Empower Yourself Pack Members will depend upon How Many People Sign Up. The more signups, the lower the price for EVERYBODY!!!   I'm hoping to keep the price within reach for everyone and will offer a pay-as-you-go option, such as:  $100 a month for 5 Months (Non-EYP Members).  This course is not just information!  My goal is to ensure every participant becomes adjusted to the LIFESTYLE of being Sovereign, is comfortable operating through Trusts, and has Completely Transformed the way you are operating, as well as helping you start creating Wealth from in a private Trust that is truly tax-exempt!