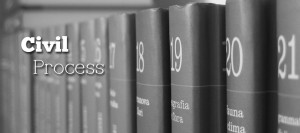 Rules of Court and the Rules of Civil
Procedure.
 Proof of Service  
Be sure to check the Rules of Court particular to the court you are dealing with and particular to the state where the action(s) arose. Following are notes regarding proof of service. The phrase proof of service is repeated several times throughout the Rules of Court and Civil Procedure. Clearly, proof of service is a component of court procedure and thus should be part of our own administrative procedures. 
What is Proof of Service?
A proof of service is a court paper filed by a process server as evidence that she served the witness or party to the lawsuit with the court papers she was instructed to serve.
It is also required that other case documents filed with the court, such as motions, briefs, status reports, etc., be given or mailed to all parties. The copy filed with the court is usually required to have an accompanying proof of service by the person who gave or mailed the document to the parties. It is usually sworn to under penalty of perjury.  See www.lectlaw.com
The following sections are taken from the New York Uniform Civil Rules for District Courts and Uniform District Court Act.  It is said that the point of these rules are to effect smooth and efficient functioning of the courts.   
Section 202.4 County Court Judge; Ex Parte Applications in Supreme Court Actions; Applications for Settlement of Supreme Court Actions.
(a) Index Number; Form; Label…In addition to complying with the provisions of CPLR 2101, every paper filed in court shall have annexed thereto appropriate proof of service on all parties where required and every paper, other than an exhibit or printed form, shall contain writing on one side only, and if typewritten, shall have at least double space between each line, except for quotations and the names and addresses of attorneys appearing in the action, and shall have at least one-inch margins. Papers that are stapled or bound securely shall not be rejected for filing simply because they are not bound with a backer of any kind.
From another section…  
a) if this summons is served by its delivery to you, or (for a corporation) an agent authorized to receive service, personally within the County of _____ you must answer within 20 days after such service; or
(b) if this summons is served otherwise than as designated in subdivision (a) above, you are allowed 30 days to answer after the proof of service is filed with the Clerk of this Court.
(c) You are required to file a copy of your answer together with proof of service with the clerk of the district in which the action is brought within 10 days of the service of the answer.
More on proof of service and other important information…
Section 212.33 Submission of orders, judgments and decrees for signature.
(a) Proposed orders or judgments, with proof of service on all parties where the order is directed to be settled or submitted on notice, must be submitted for signature, unless otherwise directed by the court, within 60 days after the signing and filing of the decision directing that the order be settled or submitted.
('Proposed' orders and judgments, we write up our own judgment)  
(b) Failure to submit the order or judgment timely shall be deemed an abandonment of the motion or action, unless for good cause shown.
(1) When settlement of an order or judgment is directed by the court, a copy of the proposed order or judgment with notice of settlement, returnable at the office of the clerk of the part in which the order or judgment was granted, or before the judge if the court has so directed or if the clerk is unavailable, shall be served on all parties either:
(i) by personal service not less than five days before the date of settlement; or
(ii) by mail not less than 10 days before the date of settlement.
(2) Proposed counterorders as judgments shall be made returnable on the same date and at the same place, and shall be served on all parties by personal service, not less than two days, or by mail, not less than seven days, before the date of settlement.
Explore the rules of court procedure so you know the protocol and language of the realm you are interacting with. Mapping your processes in accordance with proper court procedure is to your benefit.