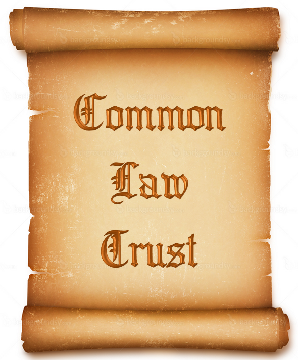 [audio:https://understandcontractlawandyouwin.com/wp-content/uploads/2012/08/Common-Law-Trust-Instructions.mp3]
Common Law Trust Setup:  This is a complete template necessary for you to establish a Trust. The funds held by the Trustee are not the Trustee's personal assets but are being held, invested, spent and used for someone else. Rich people for thousands of years have paid much much less in taxes (legally) by running trusts for their children, grandchildren, and/or charitable foundations/etc.
Protect assets by setting up a Trust to pay beneficiaries. Has levels of anonimitiy with your commercial dealings. You can set the Jurisdiction and law any place you want. The Board of Trustee's and the Trustee (usually, YOU) will be able to receive (For the most part) tax-free budget to invest in projects/expenses for the ROI (Return on Investment) for your Trust, for the ultimate advantage of the beneficiaries. Funds can be sent to the beneficiaries at regular intervals, or when the Trustee dies and/or the Trust is dissolved.
This is the #1 most comprehensive and affordable Trust Do-It-Yourself Guide, and is a revolutionary process. Comes with Board meeting minutes, Articles of Incorporation, Memorandum of Trust, EIN application instructions to get a bank account, and all the tools you will need to run an effective trust structure.
Notice:  This product is being posted with the permission of its creator; under an affiliate contract and and with their full and express permission. If you purchase this product you are NOT entitled to post it anywhere on the Internet.
However, you may ask a friend to split the cost with you so that you can for a reduced price *Both* have your own Common Law Trust set up. You may then share the documents with that other person.
Check out our Youtube video for more background on the Common Law Trust concept, and Trusts in General.
Common Law Trust Set Up Outline:
1. Before you begin setting up your Common Law Trust – if you want to have it un-connected to your Social Security number and have a more secure level of anonymizing your identity, is to first get an ID through World Service Authority, http://www.worldservice.org. And/or, Create an Affidavit of Identification. This is because you want to avoid giving any State or Federal ID when opening up a bank account.
2. Start thinking about who you might trust to be a co-Trustee of your Common Law Trust. They should be a close friend or colleague who you know you can trust. You can basically be the main Administrator of all the affairs/banking with the trust, but it is a good idea to have at least one other person as Trustee, which is another word for Administrator, who at least "on paper" administers the affairs of the trust. You should give them a few responsibilities. Maybe you do this for them and they do it for you. You should both have an active role no matter how small. If it's you who handles the finances/banking for the trust, then only you need to have access to the debit card, banking information, etc. That is really cool 🙂
3. Get Post Office box through an Attorney – If you want your Common Law Trust to be really secure and anonymous, set up a Post Office box for it's mail so it's not tracked to your address. The next level of protection is to have an Attorney set up a post office box for you, because of the attorney-client privilege, he will be bound to keep who you are secret. If you need an Attorney who is willing to do this for you, and don't mind having your mail forwarded from New York state, then contact us for this service. However we highly recommend just making friends with a trusted attorney in your area! If you have to just pay any attorney, even one you do not know, they might ask for $200 to set up a post office box for you and then they will give you the keys. A third option, there will be a fee of $300 for set up, and $200 every 3 months to forward your mail from out of state.
4. Create Your Trust Indentures, Articles of Incorporation, and By-Laws. This is what the Common Law Trust product itself gives you. This is the "meat" of the product that you are receiving in exchange for your donation. Our Document is a Template and comes with pre-made Recommendations on all the documents you can even just Replace a few pieces of information within the document, read it over, copy and paste your Charter and viola – you've got it all the paperwork out of the way.
5. Have somebody agree to be the Settlor/Grantor and to give a piece of property (say, 2 ounces of Silver is a good recommendation), into the Common Law Trust. Have your Articles of Incorporation Notarized –  Select your other Trustees who might be friends of yours, as discussed in Step 2 above.
6. Call the IRS and get an EIN Number for your Trust. We'll show you what the best numbers to call, and over time will update you. We'll show you step by step what to say when you call! I know the biggest thing people have is resistance because they fear or are unsure what questions they are going to be asked and they are not confident about what they are even doing, so they procrastinate. Why don't you just follow these step-by-step instructions, and see for yourself how a sample phone call will go, for you to get a brand new EIN number to use for your Trust. What do you say if the IRS asks you for your social security number? or your Address? We have a complete sheet with all the information you will need before making this phone call.
7. Now to actually have your Common Law Trust set up, you need to get it it's very own bank account. So go to a Bank in your area – I would pick one that you have never given your SS number too (i.e. One that you've never had any accounts with previously). Set up a "Non-Interest Bearing Account" personal Bank Account, which is basically a bank account in the PRIVATE, not in the PUBLIC (JURISDICTION OF US). Again, you may come across some questions and challenges with bank employees who have never done this. We have an outline of what to do to get around this and get your account set up. When you purchase the package, you also receive full follow up telephone or email support with us to ensure that you get your Common Law Trust set up and you are satisfied.
8. A good idea is to actually set up a Personal Bank Account at that bank (in the step above), and to then Go back later and set one up with your Common Law Trust. Bring a copy of your Articles of Incorporation (That was Notarized). If you want the other Trustee to be on the bank account and have access, then they should show up to the bank with you to sign paperwork with you. Hopefully you both remembered to bring your World ID Cards or Affidavits of Identification, and that you both are going to answer that neither one of you have a Social Security number (or do not wish to disclose it). Again, do not disclose your State Drivers ID or any other State or Federal ID.
9. Learn about deeding property via Quick Claim Deem, ask Attorney to help you or do a simple Google search. This is not the forum to go into deeding property, maybe we will add that later on. At this time, you know all you need to set up your Trust and get your Bank Account. You can have more property/assets put into the Trust which you Administer the affairs of, and there is no legal way for these Assets to be seized – nor is there any way for them to trace your Social Security number and find out that this bank account exists or that your even involved with it. There is no Legal nor Practical way that anybody can go after these Assets.
10. Put your Articles on File with the Secretary of State – Optional.  We'll have more details soon.
Here is the first page – of 17 pages – showing you how simple this **Pre-Written Common Law Trust Template** is.   🙂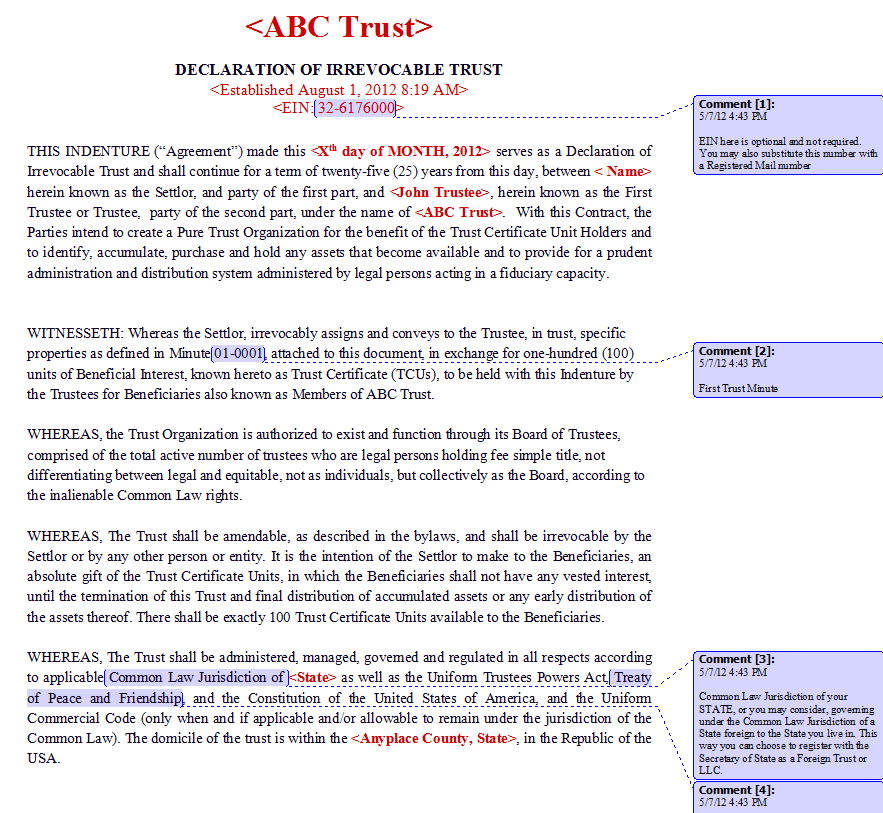 I recommend everyone who want's a trust and/or to operate in trust but doesn't know much about it, to also read the the Weisss Trustee Handbook – Download for FREE Here.
The obtain the Common Law Trust the price is $1,650. We highly recommend the "SPC DONE WITH U" which gives you the document preparation, proper training, and walk-thru to open up a bank account and learn to properly use a common law irrevocable Trust,  please Call us at 505-340-3632  to learn about your options. We are a hands-on company and like to get to know the clients and their problems as to why and what brought them here. There are no longer any online orders for this product.