Listen to This Audio to Understand the SPC Trust and the Entire SPC/UCC Process:
Audio clip: Adobe Flash Player (version 9 or above) is required to play this audio clip. Download the latest version here. You also need to have JavaScript enabled in your browser.
Download "What Is The Secured Party TRUST" audio by clicking here
BELOW IS THE FULL SERVICE AGREEMENT AND PAYMENT MAILING INSTRUCTIONS, FOR THE SPC DONE WITH U (cost is $1700 or $1650), WE PREPARE ALL DOCS, YOU REVIEW, SIGN AND MAIL. THIS IS OUR MOST POPULAR VERSION BECAUSE YOU GET TO LEARN IT BY READING AND SIGNING IT ALL.
AVERAGE LENGTH OF PROCESS: 2-4 WEEKS TO COMPLETE TO BECOME A SECURED PARTY CREDITOR AND PRIVATE CITIZEN/AMERICAN NATIONAL!!!
We now have a simple process to help you become a Secured Party Creditor/sovereign, without years of research and hassle to figure it out!
We highly recommend learning and comprehending as much as you can to overstand what you are doing, but if you have an emergency, or just wish to receive and study the Actual 100% Time and Tested Redemption Process (updated over time as feedback from the field taught us what is working and what is not…), then you have it right here!
Click the link below to download the file and input your name/information into the form. If you need help filing out the form, you may wish to call us at 505-340-3632 and perhaps to do a full fledged consultation where we can walk you through selecting all the "fields" below. Then, our service will use your data to prepare your personalized SPC/UCC paperwork!  Pricing will be discussed on consultation.
We have been working with the BEST of the best in this field.  We have delayed offering this process until 2015 because we needed to do our diligence and ensure this process got people RESULTS and was above and beyond anything else in the marketplace.
Many teachers in the past, who we used to follow, do not have the foundation down.
You must change your STATUS to have any standing to challenge jurisdiction and/or discharge your case/account!
Becoming a Secured Party Creditor is the FIRST BIG STEP towards any goals that you may have.
Call us to find out if this process is right for you.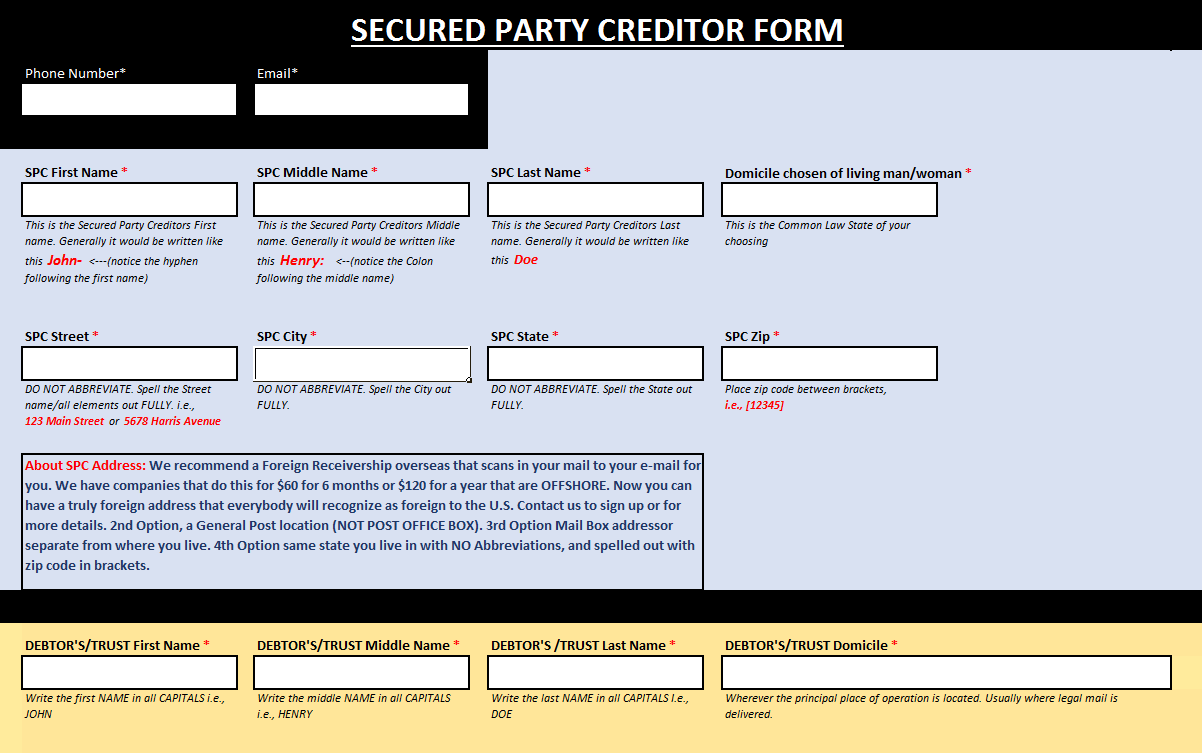 For a Limited time, we are putting a bundle package together if you wish to get the entire STATUS CORRECTION COURSE recordings and live weekly Webinars *with* the SECURED PARTY CREDITOR – DONE FOR YOU – process, call and speak with us at 505-340-3632 there is a small discount on getting both together.
Join our announcement list below for free to be eligible to call or e-mail us.
There are Only a Few State's that Will Currently Accept the UCC Filings, this chart will help show you which UCC Region State you should File in: